Jeff Dahl
All Trashed Up (Triple X Records)
By: Alex Steininger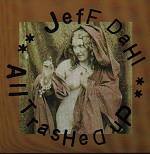 Known in the punk rock underground for his previous projects like Powertrip, VoxPop, the Angry Samoans, and the Jeff Dahl Group, Jeff Dahl has since taken it solo (preferring to have a rotating line-up on each album to keep things fresh). On his latest solo effort, he proves rock 'n' roll still has an attitude, despite the numbness of so-called "modern rock". He packs punk power into rock 'n' roll shells, and the outcome is nothing short of loud.

Opening with "Miss Thing," Jeff quickly establishes this as a powerful three-chord scream. The guitars take center stage as the rhythm section backs up everything, in the background. The drums and bass still have their say in the song, but it is the guitars that grab you by the ears and force you to pay attention. With a melodic belly, through Jeff's slick rock voice and shining guitar riffs, the song echoes around in your head with ease. "There She Goes" is another powerhouse number on here that you won't be forgetting any time soon after listening to it. It sweats rock 'n' punk from every pore, but Jeff always finds a way to slip in a good melodic groove, which helps make the song pretty memorable.

"San Francisco," "Ravaged," and "Ain't Life A Bitch" are also stand out tracks that serve up plenty of hot riffs, pounding melodies, screams, chills, and bloody beats that are sure to make you think twice about the term "modern" rock 'n' roll. Though the music contends with all the greats and has a classic punk sound, make no mistake, it is pure modern music.

After hearing this album there will be no question as to why Jeff Dahl is an underground favorite. He puts his blood, sweat, and tears into every song. And, the outcome is dangerous, just like rock should be. I'll give this album an A-.