Chlorine
Primer (Time Bomb Recordings)
By: Alex Steininger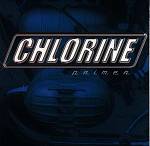 Houston, Texas' loud, abrasive rock quartet is none other than Chlorine, a band who just released their Time Bomb Recordings debut. Chalk full of thundering rock 'n' roll, the band brings in the sounds of Aerosmith, Cheap Trick, The Cure, and early Cult to come up with their own monstrous sound.

Album opener "Way Out" lets it rip from the get go, bringing in the bold guitars, hammering rhythm section, and gnarling vocals from the beginning. No time is wasted as they charge through their music with pure force, driven only by the fact they want to create a monstrous melody that will beat its way into your head until it tears you apart inside. Which brings us to the more pop-punk side of the band with "Before Too Long." They can run and jump around with speed while making sure the hooks are plentiful and the muscled engine that lies at the core of the band is always roaring.

"Over You" demonstrates a softer side to the band, as they keep the bite present, but let go of the chaotic roar of the guitars. Then there is "Over Your Shoulder," which is similar to "Over You," but this time the guitars share center stage with the softer side of the band. Album closer "Disappear" lets it all go, as the band draws you in with a brutal bass line and harsh vocal distortion, before diving headfirst into a hook. Coming back up with some more aggressive riffs, the band makes it loud and hard right until the very end.

Chlorine fits in perfectly with the plethora of modern rock bands filling up the airwaves, though their loud roaring drive and hair splitting fury helps set them apart from the pack most of the time. Still, you can't help but feel like they're just another one in the crowd of a million. But, however you feel, there are still some good cuts on this disc. I'll give the album a B-.