Proton Accelerator
Proton Accelerator (Plus Records)
By: Alex Steininger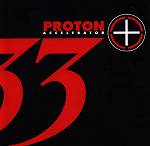 I'll be the first to admit I just didn't get what this band was all about. Using samples and an electronic stance away from the electronica genre, Proton Accelerator creates modern rock beats over samples, vocals, and a politically charged mission.

To make matters worse, track seven through track thirty-three is the same song done over and over, sometimes changed just the slightest and sometimes significantly different. This album is severely screwed up in the head, to say the least. To enjoy it you need to be able to understand it, and I just couldn't even grasp on to a clue of what this album was all about. The creators have a mind of their own, that is for sure.

There are times you'll get into it and feel a vibrant groove, but they either draw it out and beat it to death or cut it short, ending that feeling. This disc is adventurous and not afraid to try new things, but as the listener, you just might be afraid to try it. I'll give it a D.