Rainer Maria
Look Now Look Again (Polyvinyl Records)
By: Alex Steininger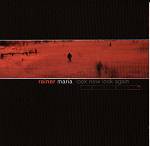 An indie-pop boy/girl band, Rainer Maria create gentle, sophisticated pop music with strength and catchy-ness, but they never leave behind the soft, laid back grooves that defines who they are. Emo may also be a way to describe the band, as they do have that soft then rock out feel loaded with plenty of emotions. But, regardless of how you label the band, the feel of the lead female vocals, the delicate melodies, and the extra help from the male vocals will surely be a warm enough sound for you to enjoy.

"Rise" intertwines the band's emo and indie pop sensations into a fitting, pretty melody with straight ahead, emotional vocals that cause each word to echo in your soul. "Planetary," on the other hand, gives you a taste of the band's emo tendencies as they start out slow, cut to some rock outbursts, and then tone things back down for some more emotional pull.

"Feeling Neglected?" again takes the band even further, starting off with some indie rock rhythms and the occasional strike of the guitar and its fuzz and fusing that with the gentle, emotionally strong vocals. The band keeps the song loud throughout, making it an indie rock number from start to finish. "The Reason the Night Is Long" finds the band leading off with the male vocalist. Whereas the song would be softer with the lead female vocalist, the male vocalist helps add a kick to the sound, making the song lean more towards the indie rock side of things than the emo. The duet of the male and female helps put the emo touch back into the picture, but with the rhythm section wanting to play indie rock, the song keeps a punch throughout. Then there is the closer, "I'm Melting!", which ends the album on a high note. Finishing with some indie rock, they help build the album from the soft opener to the bouncy closer, making this a complete package with the concept and flow well throughout.

If you're looking for indie rock, but also like the delicate nature of emo, then this is the band for you. The sweet vocals work together with the sometimes pretty and sometimes bouncy music to come up with a touching sound that has heart all the way through. I'll give the album an A-.