Speak No Evil
Speak No Evil (Abrupt/Universal Records)
By: Alex Steininger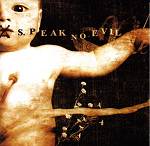 Another band playing tripped out metal leaving towards the hardcore side of things with a melodic undercoat is what Speak No Evil is. Though they fit so perfectly in with the flood of other bands just like them, their melodic touch and their ability to dive head first into metal schemes before jumping out with a modern rock riff or two to boot helps to slightly separate them from the masses.

Their self-titled debut is a collection of eleven heart-pounding, harsh slabs of beefy rock that will leave you mortally wounded if you're not careful. They've got the skills to pull off this type of music, and sometimes they do, while other times sometimes they don't. The album has its moments ("Small Words" and "Ready Dead"), though the 'moments' this album has usually spill over into the next song, making it an on-going album that never seems to end the opening track.

Yes, the curse is upon them and they fall prey to it. A lot of this stuff sounds the same. The parts that don't, stand out. But with too few of those, the album just keeps on going even though you want it to stop. I'll give this album a D.