Sponge
New Pop Sunday (Beyond Records)
By: Alex Steininger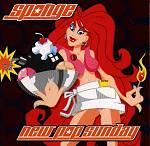 Those platinum selling Detroit rockers are back with their third album, and first away from the Work Group/Sony Music label, NEW POP SUNDAY. Still centered around the lyrics, with the driving force always the guitars, Sponge once again unleashes a rock record full of melody and power, as well as plenty of emotions the listener can relate too.

Album opener "My Lackluster Love" starts out with a shaking beat lightly hiding behind frontman Vinny's very emotionally torn voice. He sounds as if all the pain and anguish that is running through the song is also running through him, and for this, you get a very from-the-heart feel to his voice.

The first single, "Live Here Without You," takes on the same vocal approach as Vinny struggles through the pain of a lover leaving him while he relives every moment with each word. But, at the core of the song there is also a more pop-oriented angle, giving the song a more upbeat feel to it, as if there is promise and hope hiding beneath everything. And with the hope, Vinny's voice seems to cheer up some, too.

"Radio Prayer Line" will knock you on your ass with its blunt reality of a young mother who gets beat by her father and boyfriend while she seeks a man she can love and who will love her back. But, until the promising conclusion of the song, this doesn't seem possible for her. Shaking you around with a solid, pedal to the floor rock beat, Sponge cranks out an enticing number that is fast and powerful, as well as melodic and optimistic. The lyrics will make you cry, Vinny's voice will offer hope, and the melodies the band cooks up will have you singing along.

Then there is "Planet Girls," which will have you bouncing around and smiling, not to mention singing along with every word. Laying the pop on pretty thick, while still allowing their rock hearts to pump, the band develops a bold, catchy number that has no problem drawing attention to itself.

Ending with "Lucky," the band seems to have tired out as both the rock and the strong hooks are missing. They still manage to find themselves and offer the listener a decent song, but it doesn't have the grip on you that songs like "Radio Prayer Line" or "Planet Girls" do. For awhile there I thought Sponge was fading away and would become just another footnote in the modern rock biography. Though, only time will tell if they can avoid this, they're on the right path with NEW POP SUNDAY. The album is well rounded and strong, and should offer you at least a few good spins. I'll give it a B.