Starter Kit
Starter Kit (Demo CD-EP)
By: Alex Steininger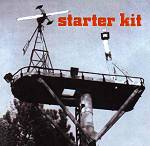 A three-piece from Portland, Oregon, Starter Kit blend the charge of power-pop with the sensitivity of indie pop, with an indie rock dash here and there, to come up with their infectious sound. The band's debut "release" (officially, this CD is a demo unit to get gigs around town) demonstrates their solid songwriting skills nicely.

Opening with "The Glory Hole," the band quickly gets the listener's attention with a hooky guitar before jumping into some bouncy pop, with plenty bite, to get you moving. Lead vocalist Jeff Pending has a voice that can be emotional or forceful, without being too over powering, and he always makes sure the mood he is projecting works with the music.

On "Tourist's Guide to Vandalism," the rhythm section gets a chance to shine as the prettier pop side of the band takes front stage rather than the power-pop of the opener. This time around Jeff's voice is sweeter and more delicate; he doesn't have to stress or emphasize his voice as much, instead toning things down and softly singing across the lighter beats.

Showing their pop-punk side, "Call Waiting" is a blast of some bouncy, very pop rock that has a punk edge through the workings of the rhythm section. "Chinese Finger Trap" also opens up the band a bit more, offering another side to them. Slow and introspective, the song could almost be considered a power-pop ballad.

Starter Kit are a band on the rise. This demo is just that, a demo, and may be a bit rough, but that only works to the bands advantage. With a demo this strong, there is no telling how good they could be with a full-length. I'll give this an A-.