The Village Singers
There's A Great Day Coming (Pinecastle Records)
By: Alex Steininger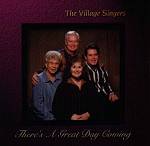 A quartet known as The Village Singers -- Harold Goad (five string banjo, mandolin, acoustic guitar, vocals), Harold's wife Kathie (vocals), his son Warren (acoustic guitar, vocals) and Kathy Berry (vocals, upright bass) -- play simple, home grown bluegrass music with a gospel approach. The outcome is soft, sweet, and sincere bluegrass that comes straight from the heart, and it shows.

The vocal harmonies found on all songs, but especially "When I Wake Up," "Far Side Banks of Jordan," and "A Heart That Will Never Break" are so tremendously sweet and soulful, you can't help but fall in love. Part of the reason I love bluegrass so much is the two or more vocals singing in perfect harmony, and that is exactly what you get with this album. The banjo, mandolin, and acoustic guitars intertwine nicely to get a very down home feel that is as gentle as a night breeze, while the bass helps to keep things steadily in line.

The Village Singers create lush vocal arrangements that are driven on heart and soul, which makes everything they say and play feel so natural. They never lose sight of what they're trying to do, and the focus is always clear and honest, so you'll never find yourself losing interest in the album. From start to finish, this is a winner. I'll give it an A.