Ska Titans: Laurel Aitken & The Skatalites
The Godfather vs. The Founding Fathers (Moon Ska Records)
By: Alex Steininger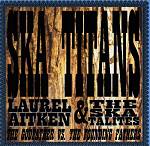 When two of the biggest names in ska get together, Laurel Aitken and The Skatalites, you know the record is going to be good. But when those two names are the creators of the sound we know as ska and the people who made the foundation for ska's existence and long life, then you know the record is going to be great. Of course, SKA TITANS is no let down, it delivers everything you thought it would plus more.

Opening with the aptly titled "Mood for Ska," your thirst will be quenched with some juicy horns, the shiny upbeat, and a danceable rhythm section. The vocals are smooth and sincere, adding a nice touch to the music. But it is the music that grabs your attention the most, making you get off out of your seat and start to dance.

The highly melodic "Same Old Song" adds a soul flavor to the mix. Beautiful female backing vocals enrich the flavor even more as you sit there and can just feel the music moving through your body. The horns warm up every inch of you, while the vocals sooth the soul. Steady and danceable, the song sings "good time." Despite the mood you're in, you'll smile when you hear this song, guaranteed.

The Lord Tanamo classic, "Come Down," is what you'd expect from these traditional ska greats--easily maintained, down to earth ska that burns with a lo-fi essence, but is anything but. The brassy horns are golden, the vocals time honored and experienced, singing with both passion and knowledge, and the rhythm section is superb. The band is tight and on the mark with this one, and as you dance along with it, you'll realize just how great they are. A live version of this song appears as one of the two live tracks on this disc, and if you thought the studio version was good, Laurel Aitken brings it to life with this recording taken from the European Ska-Splash tour in 1996.

Ending with the second live recording, "Sugar Sugar," a song Laurel Aitken wrote for Doreen Shaffer, the disc ends on a high note. Doreen's voice sounds great and on the mark; beautiful and soulful, she sings like an angel of hope and love, taking the ska vibe of unity and friendship one step further.

This disc is what you'd expect when this many great musicians get together to have fun. Super-group may not be the word here, because super-groups are usually a bust, but the simple fact that the originators of the sound got together and recorded can't be undermined. Whatever it is, it is good. I'll give it an A.