INTERVIEW: Able
Cincinnati, Ohio Rock Quartet (Able's webpage)
By: Kimberly Gaskins


Able, a rock band from Cincinnati, Ohio, consists of four members: Kevin (vocals, guitar), Gary (vocals, guitar) and Kris (drums) and Mike (bass). Kevin, Gary, and Kris have been friends for over six years, and with a mutual friend's help, the three of them were able to hook up with Mike and Able was born.

Kim: Where did the name Able come from?

Able: Kinda like shitten in your pants...Shit happens ... so did Able!

Kim: What bands, artists or people, have influenced your music?

Able: TOOL, Metallica, Misfits, New Kids On The Block, Smashing Pumpkins, Sunny Day Real Estate, N.B.S.N., Hendrix, White Zombie, Godsmack, UKJ, Terry Bozzio, Edgar Allen Poe, Rev. Horton Heap, Dick Dale, Big In Iowa, because Mr.K wants to end our careers.

Kim: You have had a lot of different influences. How has this affected your band?

Kevin: Hendrix and the blues scene in general has affected my guitar playing.

Mike: Tori Amos has inspired me to put more emotion into music. I'm a lover of all music except for country.

Kris: Whenever I play Danny Kerry stuff, it gets me all emotional cause the shit is deep. Once you get into TOOL nothing else compares.

Gary: Metallica, Misfits, and N.B.S.N. influenced me because of the sheer aggression. But the real influences in my music would have to be everybody that has fucked me over.

Kim: Okay guys, if you won a weekend getaway with your choice of either the Spice Girls or the Golden Girls who would you choose? And why?

Kevin: Golden Girls, because they aren't as annoying.

Kris: Golden Girls, because I could play my drums in the living room, because they are old and deaf so they wouldn't hear them.

Mike and Gary: We don't want either, we just want Ginger Spice!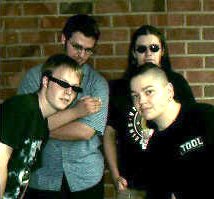 Kim: A lot of bands that I have talked to have little rituals before a show. What do each of you do to get ready for a show?
Gary: I stop eating for 6 hours before a show, and I think of everybody that pisses me off. I get to the point that I could crush anything that gets in my way.
Kris: I goto the bathroom, brake shit, jump up and down. I make sure I know all my lines and I wanna put on a good show for the crowd.
Mike: I silently have a cigarette, plug in my bass and turn on my amp.
Kevin: I drink a lot of water, jump up and down, get scared, and hassle our so called crew.
Kim: What are some goals you have for Able?
Able: Get our EP out, do some shows..... and maybe get a record deal.
Kim: How did you each get into music? And what made you decide to choose the instrument that you play?
Able: Without music we'd probably kill people.
Gary: I wanted to be a drummer. But one of my friends argued me outta it. I play guitar now.
Kevin: Guitar, because I used to sneak into my brothers room and play his. I also played cello and it helped.
Kris: Drums, because it was beautiful, and you get to beat on shit.
Mike: I got a bass, because everyone else played the guitar.
Kim: What was your favorite childhood toy? And do you still play with it?
Kris: Hot Sticks, they are drum sticks with head phones. I played with those until they broke. Now I have real drums.
Mike: I played with anything that I could make noise with.
Gary: Atari 2600, I wish I could find one!
Kevin: Hotwheels, now I play with bigger versions.
Kim: What made you decide to make a home studio?
Able: Atmosphere and money.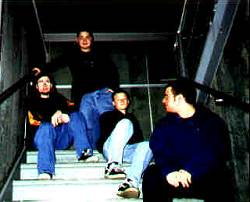 Kim: What bands would you like to tour with someday?
Able: TOOL, Helmet, Misfits, Metallica, Hanson, Stabbing Westward, Rage, Big In Iowa so Mr.K can end our careers easier!
Kim: You guys have a lot of energy on stage, and you put on an awesome live show! Do you have any shows coming up?
Able: We are mainly working on our new Album, but we have a show August 28th at the Southgate House in Kentucky. We're playing with a few other bands.
Kim: Tell me about your new album "The Psychotic Friends Network."
Able: It expresses a lot of our different influences. It's more mature then you'd expect from us.
Kim: When you become big rock stars, what do you want backstage with you at every show?
Mike: Dum Dums and lollipops.
Kevin: Tootsie Rolls, lots of Mt. Dew and Dr. Pepper, Cheese Balls, and a Deli Train.
Kris: Root Beer, Twizzlers, bucket of ketchup, doughnuts, a microwave with microwave Cheese Steaks.
Gary: Potatoes!
Kim: Is there anything that I didn't cover, that you would like to mention?
Able: We would just like to thank everyone that has been cool to us!