INTERVIEW: A Party of Helicopters
A Party of Helicopters Takes Off (Sanctuary Records)
By: Ramona Denies
Photos By: Marc Mondo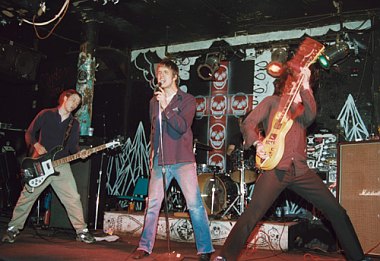 March 23, 2003, Portland, Oregon- An experiment in commercial rock appeal is currently taking place. The active agents are you and I, who love to rock out. The reagent is the wealth of resources available to select bands via the record industry. The control? None other than uber-talented Ohio band the Party of Helicopters. The hypothesis is that a truly remarkable rock band can make it in this world, granted access the right resources and enough people who love to rock out.

This is a formula for success we imagine applies to every talented, dedicated and visionary group that manages to acquire record industry support. If that weren't the promise, why would anyone sign on that dotted line? Yet the fizzy beaker full of rock-stardom is sampled by very few, the majority finding themselves nothing but burned for their troubles. For the Party of Helicopters, however, the lab is predicting more positive results.

Newly signed, well-distributed, increasingly respected, and with a flurry of touring to support their most recent album Please Believe It, the Kent, Ohio-based band seems poised to bring their awe-inspiring rock to a much larger audience.

Members having honed their skills in previous bands including Harriet the Spy and the New Terror Class, the Party of Helicopters has been gathering steam for over eight years. It has only been in the past few years that band-mates Ryan Brannon, Jamie Stillman, Cory Race and Joe Dennis have received such unprecedented attention (in the form of a contract with Velocette Records, which is distributed by Sony) and stunningly enthusiastic praise (including gushes from such critical heavyweights as Spin Magazine, CMJ, and All Music Guide).

In their first performance of their West Coast tour, the Party of Helicopters proved the merit of these songs of praise. Their sound is a technically brilliant and emotionally captivating barrage of nuanced rock. Rock-god guitar genius Jamie Stillman, without argument the most animated band member onstage, managed to competently mesh his moves with no-less-talented bassist Ryan Brannon, as well as the frenetic drumming of Cory Race and the strangely appropriate falsetto of Joe Dennis. The band rocked professionally through selections from past albums Mt. Forever, Space - and How Sweet It Was, as well as Please Believe It, delivering a performance that truly pleased the substantial crowd.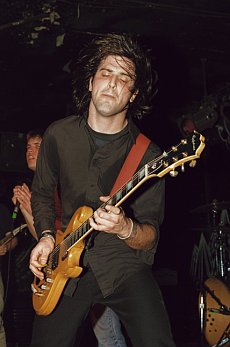 Prior to taking stage at Satyricon, Portland's oldest rock venue, the Party of Helicopters took some time to discuss their new album, Portland, and life after touring. The band crammed into a corner booth at Satyricon along with the occasional member of another band on the bill, Portland's Other Men My Age. It seems the connection between the two bands extends significantly farther back than this evening's performance?Other Men My Age is comprised of fellow Kent-Staters and Ohioans.
In fact, Other Men My Age members Dave Neeson and Ken Meyer did the jacket artwork for Please Believe It. Vocalist/guitarist Dave Neeson, himself formerly of Harriet the Spy and the New Terror Class, expressed his approval of the Party of Helicopters' ability to retain its original punk framework through time. Neeson was pleased with the opportunity to reunite with old friends.
"I was telling them [the Party of Helicopters] that it really felt good to play this show," said Dave. "We developed our interest in music together, so the show felt worthwhile in that way."
The Party of Helicopters seemed to echo the positive feelings.
The band was positive on the subject of Portland, having previously played the City of Roses many times. The band managed to finagle an extra day in Portland, due to the cancellation of a show in Seattle.
"I love Portland," said Ryan. "We've had so much fun here in the last two days."
To kill time before tonight's show, Ryan and Joe signed up for a three-hour focus group devoted to rating snippets of 700 rock radio songs, enriching themselves by 60 Washingtons. The extra cash was apparently soon spent at Todai's all-you-can-eat sushi buffet.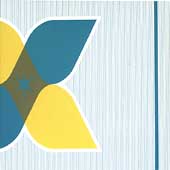 The band also feels positive about Please Believe It, their fourth full-length release, the first put out by Velocette, and the obvious reason for their current tour. The band agrees on the adjective "cohesive" when describing their latest effort. All Music Guide goes quite a bit further, stating that "Few releases from 2003, and virtually none from high-profile acts, come anywhere near the mix of passion and originality achieved on Please Believe It (Robert L. Doerschuk, All Music Guide, 4/8/03).
According to Ryan, "We just had a job to do. We sat down and for three months we wrote and recorded the album. Stuff just usually kind of happens on its own for song-writing for us."
Joe then spoke "in positive terms" about the change in audience demographics that has become apparent with the latest series of tours.
"It seems like there are fewer and fewer hardcore kids at our shows these days, and that people are more willing to dance a little bit," said Joe. "It takes all kinds. I like to see a nice mix of people at the shows. I always feel good when I see girls at the shows."
"We were fairly limited to the number of girls for a long time," interjected Ryan.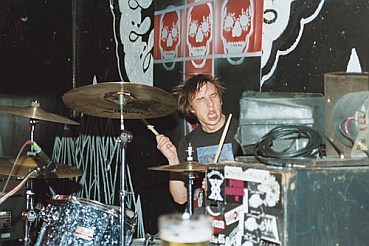 "Yeah, we started off with mostly boys in black t-shirts," Joe explained.
When asked to explain the band's sound, Joe seemed to prefer to keep things simple.
"Most of the time when I'm talking to some guy at the bar about what we're going to sound like, I say we're just a loud, fast rock band. Lately I notice that we're louder and faster than most of the bands we play with," said Joe. "I don't know, I don't think I'd mind busting out some slow jams. I figure we've got a career ahead of us."
And this rosy future? Well, let's just say Ryan and Joe speak positively that the upcoming expansion of the Zephyr, a Kent bar that just may provide much needed employment after their European tour with the Apes this summer - and pay the rent while the Party of Helicopters creates another disc of rock-out bliss.
After all, you can't cash out on the formula for success until the royalties start rolling in.