Guano Apes
Proud Like A God (Supersonic Records/BMG)
By: Alex Steininger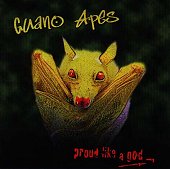 German's four-piece rock outfit Guano Apes blends metal, hardcore, and pop music to come up with their take on the modern rock world. Fronted by a female lead singer with powerful vocals, you would think that is all they would need to dominate their sound and convert listener to listener into a fan. Unfortunately, this is not the case. Guano Apes falls short with their murky pop-rock/metal sound.

Opening with the first single, "Open Your Eyes," the lead singer doesn't even sound that female. It sounds like a guy kicking out the hardcore fire of words. Of course, once you see the picture of the band on the back of the CD case, you realize it's a female singing, but if you only had the disc to go on, you might never know.

From "Open Your Eyes," the band tries to take you down a road of eclectic pop, rock 'n' roll, and more metal. But, they really just serve up more average pop music that is clogged up with their metal influences. "Wash it Down" has the potential to be addictive and fierce, but Sandra's vocals make sure the metal influence is still present, and the band backs her up during the chorus and bridge. So, you end up with a metal-pop number that is anything but catchy.

I'm a sucker for female lead singers, but Guano Apes just didn't do it for me. They were to run-of-the-mill, generic metal-pop music that has been beaten to death already. Give it a rest, will you? I'll give it a D.