Gruesome Galore
Gracious Living (Gruesome Galore)
By: Alex Steininger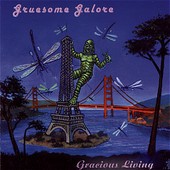 Opening their debut full-length, Gracious Living, with the line "Everything you'll ever need to know is written in the music" (and repeating it during intermission), Portland, Oregon's Gruesome Galore testifies to their belief in music and its power to enlighten and guide you through life. Softly sung over an acoustic guitar and light drums and bass, the line is an apt fitting for a record that recalls everything that is good about music.

Front man Adam Mackintosh knows how to write a great song, whether it is pop or rock. Putting this statement to the test, Gracious Living manages to offer up eleven solid testimonials to the statement's validity.

From the 70's arena rock meets keyboard-pop feel of "Black Star Sapphire", a song that showcases Gruesome Galore's ability to weave and cross styles effortlessly in the same song, through the late-night, blurry-eyed pop of "All Alone". The latter led by the sullen electric guitar and voice of Mackintosh. Bringing in the full band (and 70's guitar rock riffs) mid-song, the tender, reminiscing ballad becomes a steamy rock number.

Gruesome Galore's stunning debut makes promises and follows through, bleeding pop and rock as its mixes the two styles to come up with something unique, and refreshing, something that is melodic, yet bold, not afraid to take chances and make a statement. And that is what rock 'n' roll is all about. I'll give it an A-.