VARIOUS ARTISTS
Coming of Age in Babylon [book and CD] (Shut Eye Records)
By: Alex Steininger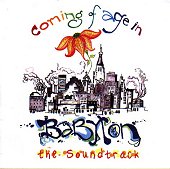 Coming of Age in Babylon is not only a twenty-track compilation of various bands throughout the nation, but it also a "book for coming of agers, 18-21, who are open to life's possibilities. It encourages young adults to find their own path."

The music should speak for itself. And since I consider music to be somewhat of a religion in a sense, a guiding hand that will help you find your own paths and rules through mistakes, mishaps, and the positive aspects of life, the book is an added piece of text that isn't really needed. To be honest, any 18-21 year older who is reading this book and needs the advice it is offering, is pretty screwed up and needs to seek professional help. Sorry to be so blunt and mean, but trying to market this book to the 18-21 year old age group is ridiculous. This book could definitely be helpful to the 12-15, and possibly 16, year old group. But, if you're 18-21 and haven't figured out that masturbation is OK, that finding your own religion path is the only way to go, and that you should develop your own political beliefs and not adopt someone else's, then you're probably beyond help.

I don't want to thrash the book in its entirety, because that is not why I'm here. I'm reviewing this because of the music, which I'll get to in a bit. But, the book does offer some information on painful topics that could help you fight the demons in your life you've been developing since day one. It offers some good information on love & sex, homosexuality, and personal imperfections. But, for the most part it is, in my opinion, geared towards to the 12-15 year old age bracket, and not the 18-21 like it claims.

As for the music, it's refreshing for any generation. They've sure hit pay dirt on this one, offering up indie-pop/indie-rock bands that run the gamut and come up with some blissful music that will help you through your highs and lows in life. Take the Kate Rays' "Social Butterfly," the album stand out, for instance. It's power-pop drive and sharp hooks, not to mention teen angst and soul-searching lyrics, make this number quite the catch. You'll be humming, bouncing, and singing along with this one from the first note until the last drum beat. Lead singer Kim Loach's voice is on the mark, beautiful and full of spirit, giving the song an unmistakable breath of fresh air.

Mary Prankster's "Piss Off" is an insightful, quirky pop number that could be from the mind of a 16 year old female who's been used for sex and is trying to find the true meaning of love, yet hopes she's "never satisfied ... and it feels so good to be misunderstood." Or, it could be the voice of a middle-aged woman who has been going through life play her cards and just having fun. Lines like, "Rip off the wrong people and they send you to jail. Rip off the right people and they say you're showing initiative," are winners. Solid songwriting and some good pop hooks make this song another high point of the album. Other tracks to check out on this album include Three Finger Cowboy's "Kissed," Dayroom's "Better Days," The Stimulants' "Daddy's Girl," and Alastor's "64-600."

I'm not a literary critic, and do not claim to be one. Therefore, take what I say about the book with a grain of salt. Honestly, I don't feel as if it is the proper instrument for someone 18-21, but if you're 12-15, then this book will definitely offer you some valuable, indispensable information on life. However, for the rest of you, here is a solid soundtrack that you can enjoy regardless if you open the book or not. I'll give it a C+.