VARIOUS ARTISTS
Country Duets (Pinecastle Records)
By: Alex Steininger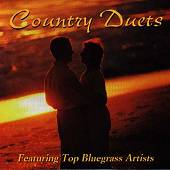 The thing I love about bluegrass music is the harmonies and rich vocal work that goes into it. So, it was only natural that this compilation of vocal duets instantly hit the spot. Artists such as Bobby Osborne, Dale Ann Bradley, Terry Eldredge, and Russell Johnson make this fourteen-track album a pleasure.

Kathy Chiavola and Jim Stack start it off with "Pure Homemade Love," a quick-stepping, rich, warming number that runs deep through your body with the eloquent male/female duet classic. "The Storms Are On The Ocean," Alison Krauss and Bobby Osborne's duet, calms things down a bit for a down home, sweet number that gently flows as the beauty of a sunset can be felt throughout the song.

One of the highest points on this album though is Dale Ann Bradley and Bobby Osborne's "The Day I Lose My Mind." Another sweet, soft number that takes you to the country porch of a wood house and just lets you sit there as the sun sets, the wind blows, and the day replays itself in your head. Sincere dreams and wishes rush through your body and you can't help but feel as ease for yourself as this number gently soothes you over.

Dana War and Bob Kogut's duet on "Going Back To The Blue Ridge Mountain," an up tempo, hot-footed tune that will get your feet up and out of your chair. Where as other tracks will have you sitting down, reminiscing, and relaxing, this one will have you dancing. Same is true for the momentous "Two More Years," featuring Gena Britt and Russell Johnson.

You can't go wrong with beautiful duets, such as the ones found here. You'll be sitting back in your chair allowing the music to move you or getting up allowing the music to move you. No matter what the case may be, the music will move you. I'll give the album an A.