The Waking Hours
The Waking Hours (Time Bomb Recordings)
By: Alex Steininger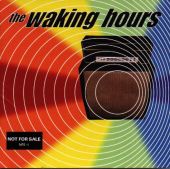 With a strong Brit-pop sound, The Waking Hours, a four-piece from Richmond, Virginia, are able to fuse Glam, punk, and, of course, the sounds of British pop bands like the Beatles into one. The outcome is hit-or-miss demonstration of America's version of British power-pop.

"Dolores" is a crafty number which has your hips shaking, lips moving, and body trembling at the rhythm that flows through this song. The hooks are plentiful, as is clearly apparent from the opening chords through the big hook that hits you when the chorus creeps up on you.

"Work It Out," is a harmonious pop number that isn't too loud, isn't too soft, but prefers to collectively bring in the best of both worlds and work them to its advantage. The song has muscle, but doesn't over do it; the textured pop sound is thick and juicy, and you'd be hard pressed not to want to dive right in and enjoy yourself once you've heard the song.

"Morning Sun" takes apart the pop that the band builds on and just rocks out with some good, clean garage rock that is all about kicking off your shoes, sitting in the sun, and just having fun. You know, the things rock is all about.

The two and three-part harmonies of "Caroline" are rich. The band has no problem synchronizing everything and making sure they're melting your heart while grabbing a hold of it with a big, fat hook. "Life Goes On" is the same way; the band delivers the goods with a good shot of rock. Still very poppy and soft, the rock beefs up the song and helps give it a backbone.

Usually Brit pop bands (especially the American ones) get dull and redundant after awhile. This is not the case with The Waking Hours. They're first and foremost about writing clever pop songs that will get stuck in your head; but, they're also about having fun and making sure the listener is too. And that goes a long way. I'll give the album a B+.