VARIOUS ARTISTS: Unsound Series
Volume 2: Guitars! (Pig Productions/To M'Lou Music)
By: Alex Steininger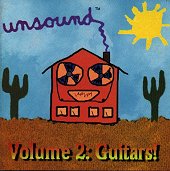 "The Unsound Series exists to make great home-recorded music available to the general public. Some amazing material is being created in kitchens and basements all over the world, and it is our goal to see to it that the best of it gets heard," states the "About the Unsound series" portion of the CD booklet. Crossing genres from power-pop, rock 'n' roll, and folk, to various offshoots of the above-mentioned labels, the Unsound series does in fact do what it claims. And, well, with twenty-three tracks, there is something you'll enjoy, at the least.

Lenny Molotov's "Frame 313," a conspiracy theorist's type of folk is potent, impacting, and entertaining. In nearly five minutes he tackles the big conspiracies one by one. Then there is The Masticators' "He's The One," a bright, blissful, toe-tapping pop ditty you'll instantly sink your teeth into. "Divorce, American Style," by Johnny Dowd, is a gothic-tinted folk song that will have you instantly captivated. What's more, this fifty-one year old artist picked up his guitar one-day and released his debut album at age forty-nine. If that isn't a testament to the fact it is never too old to enjoy rock, I don't know what is.

Lord Litter's "Signed to EMI" is a heart-felt folk number with Lord Litter and his Shiro acoustic guitar. Tender and catchy, you'll find yourself listening to this track over and over again. Mark Johnson's "Wand of Willow" is a good slab of power-pop you'll instantly find yourself humming while Kurt Reil's "Over The Edge" will find you bouncing and bopping around to the hook-plentiful number.

The magic of a home studio recording is brought to life as many musicians contribute tracks recorded fresh at home with nothing more but the basics. Technology and money aren't needed (though sometimes they help); what is needed is a good song. Here are good songs recorded at home; I'll give it a B+.