Unsealed
A Tribute to the Go-Go's (Four Alarm Records)
By: Alex Steininger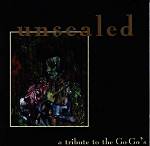 The 80's new wave band the Go-Go's deserve a tribute album. They were cute and catchy, a lethal combination. And Chicago's Four Alarm Records, with the help of indie rock bands from all over the place (but concentrated on Chicago and the Midwest), is here to offer up an equally catchy (though nothing can ever beat the originals) disc full of twelve songs sure to make you pull out your Go-Go albums again and relive your youth.

Starting it off is Fig Dish with "Head Over Heels," a heavy indie-rock number sure to get the blood flowing to your head. Then, 4 Alarm Records' own Pinehurst Kids do some damage with their thick power-pop on "How Much More." Frontman Joe Davis' voice is fiery and emotional at the same time, and it's funny hearing him sing "I want to be that girl tonight, girl tonight, girl tonight." There's just something about it that makes me want to crack up laughing every time I hear it. If you've heard this band's debut full-length, MINNESOTA HOTEL (Four Alarm) then you know how addictive they are, and this song is no except.

Portland, Oregon's Sunset Valley offer up their new-wave/power-pop take on "Automatic." Quirky frontman Herman Jolly draws you in with his soft, innocent voice, but before long you realize something lurks behind that innocent voice, but by that time its too late and you're hooked. The melody is so bouncy and twisted, once you're hooked, you'll never be the same. And on "Our Lips Are Sealed," Truly tackle an original that is going to be hard to do justice, since it was such a great song the first time around, but they pull it off. Their indie rock meets power-pop sound is revved up and charged. They hook you from the opening chords, and for the rest of the song you attentively listen while the band serves up the album's highest point.

Chainsaw Kittens have the biggest task of them all, covering the Go-Go's most well-known song, "We Got the Beat." The chorus isn't nearly as strong, and the song sort of sounds tired, but with a song this catchy to begin with it, it is hard to do major damage unless you really try too. This song still has some strong pop hooks and a melody that will make you want to sing along, but compared to the original, it isn't as upbeat or addictive.

Other notables include Sugarsmack with "Turn To You," The Blank Theory on "Get Up & Go," and, of course, the album closer, "Medley" covered by Allon Beausoliel. Known throughout Portland for being an amazing sitar player, Allon brings that skill to the table and turns "Medley" into quite the original composition, despite the fact it is a cover. Very catchy and highly enjoyable, the sitar takes the center stage on this one.

Like I stated earlier, no tribute album could top the originals by the Go-Go's, but there are some songs on here that come pretty close. As a whole, it is a good indie rock goes pop record that will stay in your CD player longer than a few spins, especially if you're a big Go-Go's fan. I'll give it a B+.