The Scars
Rude Moon (Rote Rec)
By: Brian B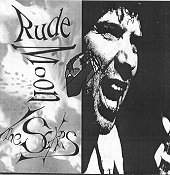 I have an autistic cousin who would love this album. Ladies and Germs, there are people in this world who should never have been beaten during childhood and there are people who should have been kept in a closet only to be taken out for their daily beating. Someone left poor Arthur in the closet. Now he sings for the Scars. There's a Rude Moon in the sky and the Scars.....well....

Someone once told me that the Residents would never play my basement with a drunk 400lb Sammy Davis Jr. What happened in my kitchen tonight makes me think otherwise.

Somewhere in Holland, a red Squire guitar, a delay pedal, a couch pillow and a high hat were stolen. Somewhere in Holland, the children whisper of a man resembling Bob Dylan living in "that" house. Somewhere Arthur has returned to his closet - waiting for a beating that may have already arrived.

Arthur is a poet. Arthur is in need of speech therapy. Arthur is need of therapy. Arthur has needs. Pete Rash (Guitar) will need therapy. Arthur sketches prickly naked women and African/Japanese creatures. When he does this I notice a drawing style that denotes a sense of being trapped. Arthur in his closet.

Tack Crash. Tack Crash plays the drums. Tack Crash. Producer Dean O'Hara is a strong man. So is Stan Yukefort. Arthur is a poet. Check out the lyrics of "Ant on a Fruit Cake" and get your pens out children--we'll have a test on this:

"Turning like an ant, on a fruitcake, Apple. Cherry. Blue. Flying like a flea, on a seagull, Apple. Cerry. Blue. Swimming like a snake, In a sharkmouth Apple. Cherry. Blue. Sucking like a DoctorFish."

I need to see the Scars LIVE. To swim - to drown like an ant on a fruitcake - to dance upon crample eaten mingled glass (Another song or poem - kiddies...if you put the lyrics down, you'll have a hard time findin out where Arthur left off - you won't know what song is on - you may not leave the table until you do).

Can I leave it at that? Maybe. Are there a few of you who are still confused? Join the club. Here's a "they sound like": Imagine Pere Ubu, Bob Dylan with 2 missing strings on his guitar, the Residents, and a man having a heart attack playing a benefit for the partially deaf. They've been likened to (according to their bio) music in the tradition of the Doors, Captain Beefheart, Tom Waits, Nick Cave, and Pink Floyd. I can see that. I need some crack, a battery acid sandwich and another listen.

The Scars. Any band who can put a lyric such as "Most likely that would be an unfrozen dish with a lot of pork closing in from behind" is a classic mental band.

This one is a must listen (There's a line RoteRec can use for a PR clip) - just pick it up or check out their website. There are just some albums you have to listen to in order to realize that you are not alone in the world. That people like you are out there.

Right now I'm going to lock myself in my room and play the album again. Tomorrow I'm going to set up an appointment with a therapist. The next day I will travel to Holland and see the Scars. I suggest you do the same.