Scary Valentine
Gorgon (Self-Released)
By: DJ Dysdynia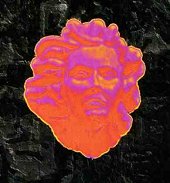 Gorgon is the first release from the duo of Scot Gordon and Shari Valenta, collectively, as Scary Valentine. The groups' sound is simple. A basic synth drum beat, with an overlaying electronic keyboard melody and a monotone songstress bleating out lyrics with almost a beatnik quality with an occasional sampling off of another industrial artist.

For a first attempt at creating a CD, I believe that Scary Valentine has alot of creativity going on, but they are lacking in some areas. Personally, no, I don't make music, but it doesn't that a fine tuned ear to recognize a female vocalist who's voice and singing style are bland and unemotional. The electronics are great, but they are spread too thin. Gorgon is a solid step to start, and with work, Scary Valentine can create better, innovative music.