Joel Plaskett
In Need of Medical Attention (No Alternative)
By: Alex Steininger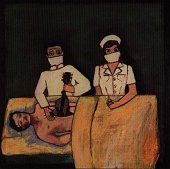 Former member of the legendary Thrush Hermit, Joel Plaskett steps out on his own with IN NEED OF MEDICAL ATTENTION, a concept album inspired by the death of Plaskett's grandfather, a doctor, in 1996. The album took two years to record, but is well worth it. The lo-fi, indie rock feel combines well with strong pop sensibility and well-written lyrics and the rest is, well, history I guess.

"The News of Your Son" is a sad tale of a man who doesn't know how to love and comes off too crass, but seems to have his heart in the right place. A lo-fi pop masterpiece, the piano pours down like rain, leading the song through the tears and emotions, while the rhythm section lightly patters throughout the song to keep the mood just right.

"Forever In Debt" keeps you on the edge of your seat as Plaskett's tender, sorrowful voice recalls pains and emotions he is trying to repair, while also seeming a bit pessimistic about its ability to work. The rhythm section crawls, Joel's guitar lightly blows through the song, and his voice leads the way with its 'whatever happens, happens' attitude.

"Id Rather Be Deadly Than Dead" finds Plaskett trudging through painful memories and emotions while trying to look forward and see the light, though the depressing, death and doctors theme of the song (and the entire album) seems to cast a dark shadow over the album. But, even though it is dark and haunting, the catchy melodies and honesty he exposes throughout makes the album easily accessible and highly infectious.

"She Made A Wreck Outta Me" cheers up a bit, placing gentle pop hooks next to an old time groove, giving it a country tint that sits well next to pop charm. You'll sit down and instantly fall in love as Plaskett puts a smile on your face, a twinkle in your eye, and warmth that spreads throughout your body.

"Goodbye, Doctor," an appropriate ending to this dark, yet light album finds Plaskett finally believing in optimism and the chance for happiness and repair after the pain has been flushed from his system. But, the memories and joys of his grandfather still find their way into the album as he seems to cope with the death and remember the good times they had while pushing forward without forgetting the past.

Plaskett's laid-back, pessimism-turned-optimism approach makes this album what it is. The sheer musicianship and lyricism that went into this is honest, pure, and ripe, giving it a high stance above the hordes of 'say what makes money' bands out there. This is the real thing. I'll give it an A+.