Joey Ramone
Don't Worry About Me (Sanctuary)
By: Alex Steininger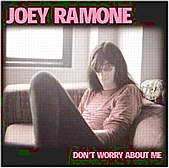 Punk rock lost a founding member in April of 2001 when Joey Ramone passed away. And though he may not be here with us, his memory is alive - and will always be - through the dozens and dozens of Ramones records out there.

Joey's last album of new material, Don't Worry About Me showcases a man in his prime, still cranking out the tongue-in-cheek three chord punk songs stripped down to the bare, rocking essentials that made him a celebrity in the first place.

Opening up with a cover of What A Wonderful World, Joey offers an optimistic blast of pop-punk energy. Wiping away your tears and sorrow, patting you on the shoulder and telling you, "just rock out", which you instantly do, knowing Joey is watching over you with a big smile, realizing he has impacted your life in so many ways.

From there on out the album is non-stop pop-punk as only Joey Ramone could do it. The stock bonds and TV anchor woman love song "Maria Bartiromo" hints at Joey's other interest, investing in the stock market and taking care of his finances, mixing it with his first love, rock 'n' roll. "I watch you every day/ I watch you every night/ She is really out of sight/ Maria Bartiromo", goes the chorus, putting a smile on the saddest fans' faces.

"Venting" and "Like A Drug I Never Did Before" are slow, but hook-y pop songs that give Joey a time to breathe as he delivers relaxed, equally rockin' songs before later delivering the album's anthem with plenty of noise, "I Got Knocked Down (But I'll Get Back Up)"

Joey's legacy will live on and Don't Worry About Me will add one more marker to a productive, influential career. Unlike other post-mortem albums that are merely praised because of the artist's passing, Joey Ramone delivers a genuine hit here sure to please fans of The Ramones and to bring some new fans aboard the Ramones crew. I'll give it an A-.