The Anniversary
Designing A Nervous Breakdown (Heroes & Villians/Vagrant)
By: Alex Steininger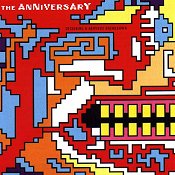 Kansas City-based five-piece The Anniversary go for new wave and synth pop on their debut, Designing A Nervous Breakdown . Though the album has its drawbacks (the vocals aren't always the best, the songs sometimes blend together, and some of the songs lack the catchy-ness of the others), the band delivers some nice pop moments here.

"All Things Ordinary" shines. Raining organ followed by fuzzy guitars and hard-hitting rhythms, the band reels you in. "Emma Discovery" rattles you with more pop hooks and a rocking beat that softens before roaring again. And "Hart Crane" proves the band can do more than just rock out endlessly; they're capable of sweet pop without ditching the driving beat that makes them bouncy and entertaining.

Not the best pop group by far, they have plenty of pop hooks and shining moments on this album. Enough, at least, to keep you entertained and wanting to listen to the album more than once. I'll give it a B-.