The Anniversary
Your Majesty (Vagrant/Heroes & Villains)
By: Alex Steininger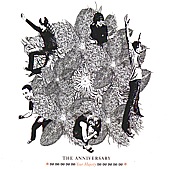 Tight, poppy rock songs recalling 60's AM Radio and mod rock, The Anniversary's Your Majesty shows the growth and maturity the band has went through since their last full-length of Heroes & Villains.

"Sweet Marie" is a standard pop song, separated from other pop songs by its beautiful vocal work and the harmonious backing vocals that propel the song and make it the shining start to a blissful album that it is.

"Peace, Pain & Regret" develops the rock more, allowing the rhythm section, especially the drums, room to run and make their mark on the song, while the pop that makes The Anniversary such a creative, promising band sings throughout the song.

"Never Die Young" incorporates mod-rock tendencies with sweet pop, while "The Ghost of the River" is the soft spot of the album, a sweet, simmering acoustic number of beauty and triumph.

The Anniversary's debut was a promising, if somewhat flawed new wave and synth pop offering. With nearly two years more under their belts, they've progressed leaps and bounds, growing into their pop songwriting and making an exceptionally solid album. I'll give it an A.