No. 2
Allistair Chestnut (Wicked Witch Records)
By: Alex Steininger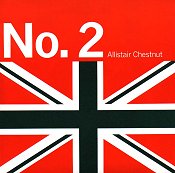 One of the best indie pop bands, No. 2 (former Heatmiser frontman Neil Gust's new band) brings their charged, straight-to-the-point rock out on "Allistair Chestnut" and the B-side, "Little Face." Gust's no waste, all substance lyrics shine through the jagged rocker "Allistair Chestnut," while his stern, yet slightly frightened voice makes you break down on "Little Face".

"Allistair Chestnut" proves the band can rock with the best of them without drowning the actual emotion and setting that lies within the song and "Little Face" proves they can tone it down and do gentle pop without getting flimsy or weak. Here are two tracks that, when used in conjunction with the band's full-length ( No Memory , Chainsaw Records), will amount to one heck of a good time. Or, use these two songs separately and still enjoy the mood. Either way you win; I'll give it an A.