The No-No's
Let Your Shadow Out (Animal World Recordings)
By: Alex Steininger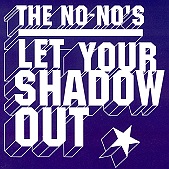 Portland, Oregon's The No-No's (including guitarist Mike Clark, member of Stephen Malkmus & The Jicks and The Maroons), create jangle-y indie-pop, sometimes even cranking things up and delivering a shattering, balls-to-the-wall rocker.

Such is the case with "I've Had Enough," a fierce, fifty second long song that enters with a bang and rockets out the door so quick you wonder what hit you. But, songs like "Love Is Only Sleeping" and "Psychic Twin" find middle ground between the band's all-out rockers and their slower songs. Bouncy and fun, "Love Is Only Sleeping" and "Psychic Twin" both hit you with jangle-y pop carried out by some guitar-powered rock.

"Love Is Only Sleeping" focuses on the rich vocal harmonies in the chorus and a danceable, hip-shaking beat that shines in the verse. Whereas "Psychic Twin" jumps and bops around with fast, fun melodies and an infectious blend of backing vocals and a fierce guitar that cuts to the point in the chorus.

The soft "Empty Bed" and "My Sunshine" focus on front woman Robin's vocals, with the guitar the other focal point, which, in both cases, is a bit jarring, helping to keep the song from becoming too slumbering. The latter relies on a guitar and the vocals, with additional guitar tracks added in the middle of the song. "Empty Bed" starts out soft - with a full band - and builds to the ending when the band jumps into the rock.

And let us not forget "Girlfriend", a jangling, straight-ahead pop song that will get you bouncing and boppin' as you sing along.

The No-No's play lo-fi, loose rock and roll that is fun and carefree, but still offers you something. And, unlike some bands that try to have fun and come off sounding bad, The No-No's sound as if they're having a blast, playing music they love, music that will make you move, and ensure everyone has a good time. I'll give it a B+.