VARIOUS ARTISTS: Filthy Bunnies and Teenage Tramps
A SLUG Magazine Compilation 2xCD (Slug Magazine)
By: Jeb Branin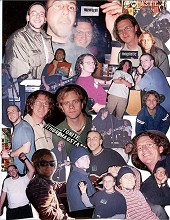 Last month I had the opportunity to visit the home of Billy Gould, bassist for FAITH NO MORE and big cheese at Kool Arrow records. He was explaining to me that Kool Arrow was a label dedicated to bringing international bands to the attention of the music buying public in the United States. He was talking about how bands from foreign countries have a hard time being taken seriously in the U.S. because music fans here are so narrow minded when he stopped in mid explanation and said to me, "Well you understand what I mean, you're from Utah. Nobody takes music from there seriously either."

Sadly, he was very correct. Thank goodness for things like Salt Lake City's SLUG magazine which has been cranking out issues every month for 11 years now and has worked hard to bring Utah based music to a larger audience. In spite of changing its focus drastically since its inception, it is still the best newsprint rag in the state of Utah, which is probably more of an honor than you think it is, ya putz. Every once in a blue moon they compile a collection of Utah's finest bands for release. This is the first such collection in a long time so it is appropriate that they make it a double CD set. Over 40 bands are included on this compilation and there is something for every fan of the underground; from pop to garage to metal to weirder than a three dollar bill in the collection plate. There are too many highlights here to enumerate them all but some simply have to be mentioned... LOVE SUCKER plays a Vivian Slade-esque femme pop that is amazing until the sax solo... at which point it gets even better.

DOUBLEWIDE has a great name and plays thick neo-rawk full of hooks. MOON BOOTS has a terrible name but the ethereal jazz sound compensates nicely. MESSY BREAK-UPS sounds like a garage band playing X out takes. THE FLESH turns in an instrumental number that has both gripping acoustic and arresting electric guitar performances. WORMDRIVE plays meaty garage punk rawk that would be at home on the R.A.F.R. label. FRAIL rips out a new breed hard rock ditty and unlike most bands plying this trade, they get it right. THE LAZARUS PROJECT is a post-death neo-metal act whose going to throb you to death. CLASSIC ASSHOLES are retro garage punk and actually use the cliched line "smash this state" in their song "American Anti-Facist" and they even spell "fascist" wrong to boot - can't get more classic punk than that! 13 really need to change their name considering the high profile NYC band of the same name, but I gotta say their multi-vocalist punk/hardcore assault is one of the best moments on this compilation.

WICKED INNOCENCE is one of the only bands on here that has (had?) an international recording contract and their multi-layered death metal is always impressive. UNCENSORED SOCIETY play that sloppy and crusty hardcore that put SLC bands like HATE X 9 on the map a decade ago. And FISTFULL play a ripping and screeching brand of angst driven femme fatale punk that reminds me of an angry LUCID NATION.

MAGSTATIC are the best band in Salt Lake City so it isn't surprising they turn in the best performance here. Their cut "Hit" starts off a little shaky but once the song hits its groove they are off and running. This is the kind of stuff that gets under my skin and I end up singing all day long. It is phenomenal, to understate the case.

As a SLUG Magazine alum I would probably lose my retirement benefits if I didn't also let a bit of negativity sneak into this review...so let's rag on a few of the weakest tracks, shall we? MOOD SHAKE play a spaced out electronica flavored pop that is annoying enough to make me re-think my stance on the censorship of music.

SUGARPANTS do a perfectly lame job of imitating perfectly lame hip hop metal bands. They have a line saying "I hate you motherfucker, better hate me too", well whadda know, I do! Lastly, TARN show why a lot of heavy garage rock should never leave the garage. But after weighing the good against the band and all is said and done this compilation is a fantastic way to explore not only one of the most obscure underground scenes in the United States but one of the best as well.

This isn't something you are going to be able to stroll down to your local Sam Goody to pick up so send $13 to SLUG Magazine 2225 S. 500 E. Suite 206 SLC, UT 84106 USA. Mention you read this review in IN MUSIC WE TRUST and you will receive a free copy of SLUG magazine. Or better yet send $15 and mention this review and you will get a one year subscription to SLUG and the CD for free! Damn, I'm so good to you people.