The John Doe Thing
Freedom Is... (spinART Records)
By: Alex Steininger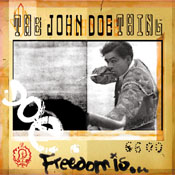 Former frontman for the groundbreaking Los Angeles punk act X, John Doe, along with his band The John Doe Thing, shakes things up on Freedom Is..., an album that will shatter you with rockers one minute and have you in a very introspective mood the next with slower, contemplative pieces.

"Catch Me" opens the album with just the right push - not too slow and not too fast - as the deep groove of Doe's been-through-it-all voice contemplates out loud with powerful words and a striking beat behind it all.

"Someday / No Day" simmers before reaching the boiling point, crashing down on you with the chorus. Intense guitars roar while the fire of the drums and bass beat upon you like winds in the middle of a storm. Injecting the song with a hooky melody, and the engine to keep everything running smoothly, Doe's voice and maneuvering proves he's still got the flare to make crafty rock that energizes and entertains.

But it's "Beat Up World" where we find Doe at his best, delivering a smooth, seductive pop number that has the steam of any of his best rockers, as well as the hooks and charm of any memorable pop song. Forcing you to crawl into his world with enthralling lyrics and a sly take on life ("There's a tiger hanging over my shoulder/ It's fuzzy and fluffy and wants to eat me/ Can't think of a better way to get out of here/ But I guess I better hang around a few more years), Doe captivates you with the words and stuns you with the crisp, driven melodies.

"A Picture of This" is another stellar piece that finds Doe at the apex of his pop game while still delivering the rock appetite that has made him an underground household name. Not too overpowering, yet still quite engaging, the slight roar of the guitar and Doe's relentless voice gracefully moves along while the rhythm section keeps things moving with regularity.

"Telephone by the Bed" finds Doe rocking out in true rocker fashion; tight, pounding rhythms coupled with strong vocals and well-written lyrics, wrapped around an infectious, jarring beat.

"Ever After" recalls the days of X, as Exene Cervenkova lends backing vocals. A ferocious rocker that proclaims "At least I'm not a born-again Christian," anyone stupid enough to shoot their mouth off and say some ridiculous like "Doe's solo stuff is lacking the skill or power of X" will quickly be silenced.

The slow "When No One Cares" has you sitting back in your chair absorbing the gentle vibes and soothing, infectious beats, while "Too Many Goddamned Bands" gives you a taste of country-punk-pop-rock at it's best.

"Glass-phalt" is quiet in nature, but loud in style. The whispering Doe slides through this one unnoticed, as his vocals take a back seat to the gentle guitars and drizzling beats. "Totally Yours" slightly jarring drum loop backs up Doe's acoustic guitar and melancholy voice as he takes a trip down memory lane and delivers a story of love long gone. And album closer "Sueltame" has you sitting back in your chair as the softer side of Doe is once again exposed to the bone.

Still poignant after all these years, John Doe hasn't lost anything. On Freedom Is... he gives the rock fans something to chew on, delivers some fine singer-songwriter moments, and proves he can also do everything in between. A fine example of a songwriter that has grown, not fizzled out, over the years. I'll give this an A.