John Doe
Dim Stars, Bright Sky (ArtistDirect/IMusic.com)
By: Alex Steininger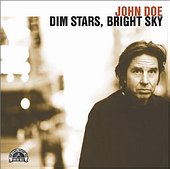 Known as the legendary co-front man for Los Angeles' ground breaking post-punk band X, John Doe has done many styles of music over the course of his career, including punk, folk, country, and pop. When it comes to his solo albums or his band The John Doe Thing, Doe has always ran the gamut, reaching out with some guitar-driven rock for those that crave the punker in him, while mixing in the solo side of what he does.

After playing solo acoustic shows year after year, many fans have asked Doe if he would ever create a record entirely focused on what he does live. Dim Stars, Bright Sky is that album, a softer, pop-focused acoustic-minded record that showcases the lesser known, but equally appreciated side of Doe's songwriting.

The acoustic guitar and piano elegance of "Still You" (with Juliana Hatfield) is mellow and sweet, Doe's soothing, wisdom-filled voice splendidly complimented by Hatfield's airy background breeze, all while the gentle song steadily and quietly comes together with an absolutely stunning result. Never before has Doe touched upon such unbelievable beauty, the influential troubadour creating something as compelling and from-the-heart as his early by-the-cuff punk offerings.

"This Far" (with Aimee Mann) is a bit more upbeat and present, preferring a steady, bouncy rhythm section over the relaxed flow of "Still You". Propelled by Doe and Mann harmonizing, the song bridges the gap between the rock of Doe's earlier solo offerings, the roots-rock he has touched upon, and the melodic, tender Americana and pop of this album.

Then there is "Magic", which features a guest appearance by none other than Jakob Dylan. A mid tempo rocker, Doe and Dylan compliment each other and come up with a song that balances between roots-rock and elder pop.

The Old 97's Rhett Miller also appears on the album, on "Backroom", another song made even stronger with the help of a notable musician. An acoustic-rock song with more elegant pianos, Doe's lyrics and melodic abilities are never in question.

Produced by Joe Henry, John Doe, and Dave Way (who did John Doe's last solo album, Freedom Is...), the two help Doe create a flawless, sensible album of beautiful pop and time-honored Americana. I'll give it an A.