No Merit
Fomunda (Flat 5)
By: Alex Steininger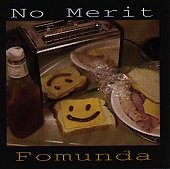 The epitome of bad modern rock that leans towards hard rock and metal during half of the album and tries to muster up some pop sensibilities during the other half. No Merit is a band cruising down the path of mediocrity while searching (and struggling) to find their own sound, or at least a sound that isn't so overly unoriginal and uninspired.

"Mouse in A Bottle" is a volatile mixture of wannabe Led Zeppelin riffs and Pearl Jam-esque hard rock; "Suck It Up" yearns to be Alice in Chains; and "Show Me the Money" is yet another bad modern rocker.

Then there is their pop side. "On The Floor" drops the barroom guitars and toys around with gentle pop harmony. But the memories of their other material still looms in your head. And the final straw is their cover of the Neil Diamond hit, "Girl You'll Be A Woman Soon," an insult to Neil Diamond and anyone that enjoys his music.

Simply put, this is bad modern rock and the reason many have proclaimed the death of rock. Though, rock is still alive and well, bands like No Merit are doing their part to kill it off slowly. I'll give this an F.