No Knife
Riot For Romance! (Better Looking Records)
By: Alex Steininger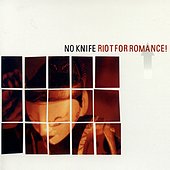 Taking emo-rock to a new level, San Diego's No Knife, one of the bands credited with helping put San Diego on the musical map, delivers a post-punk explosion of stripped down, guitar-driven rock and roll. There are plenty of raw emotion and bursts of expression on their latest, Riot for Romance!.

Coupling a song like "Feathers and Furs", a softer, more sullen indie rock song along with a straight forward, melodic rocker like "Brush Off" seems to be par for the course with Riot for Romance!. The album has the band wrapped up in the rock but they're capable of escaping for a few to catch a breather and give you a few songs that do not inundate you with pounding rhythms and loud guitars. Instead, they allow you to breathe with quieter, introspective moments.

"Flechette" and "Permanent For Now" are prime examples of what No Knife is all about, keeping things loud and semi-heavy, while ensuring the melody can shine through, and that a hook or two catches you, so you can enjoy the rock but not get too bogged down with its power.

A catchy, guitar-driven rock record that avoids the cliches but still remains crunchy and melodic, while incorporating emo into the mix as well, wearing its heart on its sleeve and being nothing but straight forward with you. I'll give it a B+.