Ezra Holbrook
Sympathy for Toys and Puppets (Songs For Thomas)
By: Kimberly Berhorst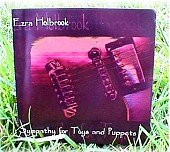 Singer/songwriter/producer/indie label owner/ 'sound guy' -- at age twenty-five, Ezra Holbrook has been all of these. In the face of being dropped by a major label, subsequent personal upheaval and a move from L.A. to Portland, OR, Holbrook hasn't missed a beat. Amidst collaborating on various musical projects, he maintains a busy solo career and has become a cornerstone in Portland's acoustic community. In April, Holbrook released his first solo album, Sympathy for Toys and Puppets.

Sympathy is at once a rich showcase of Holbrook's superb gift for pop songs with across-the-board appeal, and a long-time goal finally realized. Set against an all-too familiar backdrop of corporate mergers and industry reconstruction, Holbrook first recorded and co-produced Sympathy in L.A. in 1995 for Capitol Records. Co-produced by Caleb Southern and Sean Norton, the initial incarnation of Sympathy, was shelved before seeing the light of day when Holbrook's A&R rep was laid off. For the next five years, Holbrook negotiated with Capitol for rights to release the album independently. Permission finally granted, he laid new vocal tracks and released Sympathy through his own Songs for Thomas productions.

In addition to playing the club circuit, Holbrook is well known for his significant contributions to West Coast music, lending multi-talented musicianship and production skills to an eclectic mix of local musicians. Perhaps best known in the NW for producing Portland's The American Girls' latest album, Like the Movies, Only Slower (Trauma Records), Holbrook made his debut as producer at age twenty with L.A. band Lifelonglife's album Very Large (ZLA Records). He also has donned the producer's cap with the Baseboard Heaters, John Sabol (ex-Betmars), Lael Alderman (ex-The Loved, featuring Holbrook as drummer), and Drive. Currently, he is at work drumming on Jeremy Wilson's (ex-Dharma Bums, Pilot) upcoming solo album, and is interested in producing several local musicians.

Artists who've worked with Holbrook are quick to voice their respect for him not only for his musical talent, but also for his skill in collaboration, direction and leadership. "A lot of people don't know what a record producer does," Holbrook said. "They think he's this guy with all the money or something." Holbrook laughs, "People don't realize that the producer is like a band director, directing the recording and piecing it all together."

To describe my true impression of Sympathy, I gotta' say something non-P.C. here -- Sympathy is my idea of the perfect 'Guy CD.' Sounds cheesy, but it's a great backdrop for first dates, kissing, holding hands in the car, spring/summer drives. Lyrically, Holbrook sings with a Hamlet-like L.A. cool and intelligence, styled with romance appreciable for its sincerity. Unlike too many other albums about Boys, Girls and heartbreak, the songs are without tacky expletives, name-calling, and condescending lyrics. Never mind the heartache expressed, the pleasure of the music is uplifting.

Sympathy's title track is a jab back at the very industry that screwed the whole deal (first published by Holbrook's former band Jacob Marley's Ghost (Eugene, OR; No Crying Records). In fact, Ezra relates, when Capitol heard the song, they contacted him with enthusiastic compliments.

"They assumed it was about a girl and called to tell me how great it was," Holbrook said. "Someone wound me up and sent me spinning like a fool--string and bone and stick and glue/Sympathy for toys and puppets too--"

"I never told them what the song was really about. It's just ironic," Holbrook said. Sympathy's slow- to mid-tempo songs actually are mostly about the proverbial Girl and possess a romantic appeal across the board. The songs transit easily through jazz, ballad and rock vibes -- Holbrook is a natural to them all.

Sympathy made its debut at the Blarney Stone on April 16, where Holbrook threw one of the most rocking CD-release parties of the year. MC'd by the slap-stick comedy act of brother Jules Holbrook and his partner Ryan Dixon, Holbrook hosted a showcase of West Coast musical talents he has worked with and produced. The impressive lineup included Lael Alderman (The Loved), The American Girls, Baseboard Heaters, Chris Bolton, Camero Hair, Nicole Campbell, Brian Cutler (The Bottom Rung), Drive, Joe Frice, Marigold, Nina Neher, Stephanie Schneiderman, Silkenseed and Jeremy Wilson.

I've never seen such a show of love and support by a company of musicians. Choosing the last slot with the words, "I never let my friends play last," Holbrook finally took the stage despite losing his voice to a particularly rowdy impromptu rap with The American Girls. When even a lozenge-spiked beer wouldn't help, Holbrook's friends (incl. his brother) joined him onstage to lend backing vocals. And if their esteem isn't reason enough to check out this CD, a few words.

"I'm definitely blessed to have worked with such talented musicians," Holbrook says of Sympathy's lineup: Bones Caragol and Gary Jules, lead and rhythm guitars; John Nau, all things keys; Tommy Walters, bass; Eva and Erin Wyatt, backing vox; Jerry Rush, trumpet; Dave Tull and Jim Keltner, drums; and Holbrook, all of the above.

"Releasing Sympathy feels like cleaning the slate," Holbrook said. "I've written 30-40 songs since it was put on hold and look forward to my next project. It'll be a lot less produced [than Sympathy] and a little more intimate, more like my live acoustic performances." Holbrook said he plans to release two more records over the next year or so.

A couple of picks: I suggest skipping up to "Dear Juliet" for the first listen, my favorite. It's ideal sunny day driving music -- pop-happy keyboard melodies and snappy drums punctuated by one off-key note. Sad, sad letter lyrics, entreaties to The Girl with a sensible wrap-up of hope: "Dear Juliet -- I have only one regret/unhappy circumstance made this night our final dance/so hold me very close/don't you ever let me go/while they're breaking down our set you and I will dance--"

There's a wry nod to the funny things people do in the song "Prometheus". Guy walks into a bar, lighter on-hand: "I carry the torch here in this tragic joke/you know what's funny is I don't even smoke--he says I know that this little spark/it will be the end of me--/he holds his hand to his side and says hit me again/he lights her cigarette and she says/these days it's rare to meet a gentleman."

Wrapping up with one of the best tracks, "The World's Kite," is a beautiful, soaring melody (it sounds like kite-flying) in which Holbrook speaks to his late father (to whom Sympathy is dedicated): "Someone tied you to the world/A piece of string that kept you on the ground--the wind came up and left your body cold/And I guess someone had a change of heart/They finally let the world's kite go--"

While I prefer the gentle dreamy quality of the slower songs over the upbeat opener "Plain Jane" and the jazzy "What Will I do When You're Gone," it's all good. Add it to your spring and summer listening collection. Grade: A-.