Eytan Mirsky
Get Ready For Eytan! (Mirsky Mouse Music)
By: Gary "Pig" Gold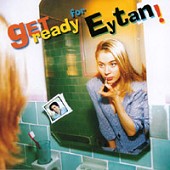 Nice! Happy! Short! And, above all else, poppy! Eytan Mirsky has produced a cunning little corker here, chockfull of precisely the kind of music that heads straight for the feet as opposed to the brain matter.

Sure, Marshall Crenshaw is one obvious comparison (i.e. hear ye "Somebody To Blame" or "The Vulture Of Love"), but 'cha know what? I think I actually PREFER Eytan's way with a word (especially during "Either Way"), not to mention his twist of a chord. In fact, "Allergic To Fun" conjures the late great Paley Brothers -- no, wait! I mean the Rip Chords! -- by way of no less than Teenage Head, while "Found" even veers delightfully into near Robbie Fulks territory. And why "Record Collection" wasn't spun beneath High Fidelitys end credits I'll never know!

Yep, this is one ultra-cool little disc, friends, and if you don't love it already, then that's only because you haven't yet heard it.