Warren Zevon
Life'll Kill Ya (Artemis Records)
By: Alex Steininger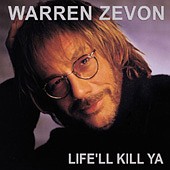 Warren Zevon's songs are quirky. From lyrics like "I can saw a woman in two/ But you won't want to look in the box when I do" from "For My Next Trick I'll Need A Volunteer" to the chorus of "Life'll Kill Ya" where he sings a line and then, seemingly out of place, but fitting as only Zevon can do it, he lands a line on you that is rushed into the melody as he talks it rather than singing.

The lyrics and singing aren't the only things that are quirky, either. The music is blue collar, working man pop with folk and country elements strung throughout. What is quirky about that, you ask? Well, nothing. But, the way Zevon plays it, it is. He bounces through a light-hearted pop melody and then pulls a 180 and spins around some folkish-melodies, before coming back again to more pop.

Zevon's Life'll Kill Ya is an eccentric pop album, but that is where its beauty lies. Zevon will take you through twisted tales of Americana life, while always making you smile and have fun hearing his stories. And, stories he has. Some may call it quaint. Others may call it weird. I call it good. I'll give it a B+.