Warren Zevon
The Wind (Artemis Records)
By: Alex Steininger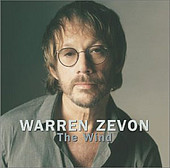 The heartfelt, dark piano ballad "Please Stay" resonates on Warren Zevon's last album, The Wind, recorded after he found out he had mesothelioma, a rare lung cancer. Released two weeks before his death on September 7, 2003, Zevon lived long enough to see both his daughter Ariel give birth to twin boys and his final album's release.

Featuring guest appearances by longtime friends Bruce Springsteen, Tom Petty, Dwight Yoakam, Don Henley, Jackson Browne, and Emmylou Harris, everyone comes together to help Zevon go out strong. And that he does.

From the blues-y strut of "Rub Me Raw", the rustic rock of "Dirty Life and Times", and a cover of "Knockin' On Heaven's Door" that signals both acceptance and respect for death, Zevon delivers maybe not his best album, but a solid one without a weak spot.

Brought to life even more so with the help of his friends', especially the backing vocals by Petty ("The Rest of the Night") and Springsteen ("Disorder in the House", which also featuring Springsteen on electric guitar, and "Prison Grove"). The Wind is a heart pounding, teary-eyed listen from start to finish, a gripping collection of meaningful, lyrically astute songs from a man who looks death in the face and keeps doing what he does best - making memorable music. I'll give it an A-.