Dusty Trails
Dusty Trails (Atlantic Records)
By: Alex Steininger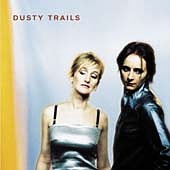 I'm going to be lazy and quote the back of the promo CD case: "Mellow sounds and minor chords, a synthesis of elegance and groove". To me, this seems the best way to describe Dusty Trails.

A female duo, Dusty Trails delivers sweet, serene pop melodies with distant sounds swimming around the textured soil that grows the rich pop that is the band. A bit jazzy, a bit sensuous, and highly elegant, the self-titled full-length is packed full with pop that is versatile enough to make your head turn, if only a little bit, as you wonder what exactly they're all about. I'll give it a B.