Dizzy Elmer
This Bad Dog (Dizzy Elmer)
By: Alex Steininger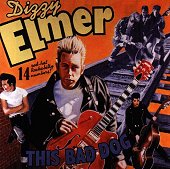 Heart-stoppin', sweaty, greaser-rock... yep, we're talking pure, vibrant rock-a-billy with fierce slappin' on the acoustic bass, hammering drums, and a guitar that wails and sings. The vocals are also true to form, cruisin' along with the power of a classic American muscle-car motor.

"Dizzy Mo" will bring you to your knees if you try to keep up with this wickedly fast dancer. "16 Tons" gives you time to breathe with its deep, enchanting beats. And "Big Legged Woman" whips you back into shape with some classic American rock that owes as much to Chuck Berry as it does Carl Perkins.

Here is the real deal. No punk-a-billy, psycho-billy, or any offshoots like that. This is pure, blood, sweat, and grease rock-a-billy music that will get you wailing along with it. I'll give it an A.