Bill Retoff
Pop Jewelry (Maize Records)
By: Gary "Pig" Gold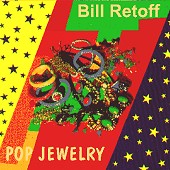 Gorgeously slick 'n' sticky ear-drops, positively sunnyday-infested and refreshingly unapologetic in its wide-eyed innocence, Bill Retoff and friends herein offer an albumful of vocally-heavy, lyrically positive, and musically understated pop. Nothing more, and most definitely nothing less.

The melodies, true to form, are adventurous throughout (for example, the daring octave-jumps in "Bouquet Of Dandelions"), but always in the nick of time are guided safely home with a strategically-placed "oooh", "ahhh", or even a time-trusted "doo-wah". "I'll Remember" is an absolute shimmering gem of a song worthy of a Beach Boy or Beatle at its best and, speaking of you-know-who, "To You" is an oddly sparse, keyboard-haunted ballad in the little-mined vein of G.Harrison's "Long, Long, Long".

Cowboy hats are duly donned for "If This Is Like Dyin' (It Ain't So Bad)", but Bill can, yes, r-a-w-k ("Diminished Life") --to even Stone-like levels ("I Don't Need To Cop An Attitude" actually belongs on Keith R.'s next album!) Rather than just recycling yesterday's achievements, however, Bill Retoff has produced an album that can proudly stand alongside those of his musical heroes. And yours too.