Bill Monroe
Live From Mountain Stage (Blue Plate Music)
By: Alex Steininger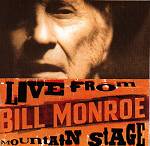 With their 20th release, Nashville's Blue Plate Music has decided to celebrate with a live recording of Bill Monroe and his Blue Grass Boys performing on the Mountain Stage in May of 1989. Not only is this their 20th release and the ten year anniversary of Bill Monroe's first and only appearance on the Mountain Stage, but it is the label's first release dedicated to a sole artist.

Bill Monroe invented not only the style that goes by the name of bluegrass, but he also penned the name. Bill Monroe is the father of bluegrass, so it comes as no surprise that him and his band are probably the best bluegrass act up to this point, and even though Bill is no longer with us, will remain one of the strongest bluegrass musicians ever. So it is a treat to hear him live, because the "soulful, hard-edged mountain music that emphasized instrumental dexterity, rich harmonies and a blazing tempo" is brought to life when performed live, and that is precisely what this recording captures.

Opening with "My Sweet Blue Eyed Darlin'," Bill Monroe and his band quickly heat up the air with their blazin', harmony filled bluegrass tunes that will bring warmth to your heart and an itch to your feet that can only be cured by dancing. "Southern Flavor" is an instrumental stomp that carries on the glow brought forth throughout this album, as well as the dancing that will occur when you listen to this music. But the fun doesn't stop with one or two songs, it continues on throughout this thirteen-track album.

Written in 1946, and now the state song in Kentucky, "Blue Moon of Kentucky" is one of Bill Monroe's most well known songs. So, it would be a pity if the song wasn't included on the disc, but of course, it is. Bill and his band bring it to life, as you can just imagine yourself under the night sky listening to Bill play his heart out for you on it. The warmth, vibrancy, and joy brought forth by the song are enough to over power you. It brightens up your soul and makes you feel so good inside.

Other notable tracks (although, they all deserve mention because they're all so warm and soulful) include "Sugar Loaf Mountain," "The Old Hometown," "Rawhide," and "Roll In My Sweet Baby's Arms." Each song contains perfect licks, rhythms, and beats, as well as harmonious vocals when they come into play, so no matter what you're looking for in your music, it is guaranteed to be here.

One listen to just one song on this album and you'll be hooked. Whether or not you're a bluegrass fan, it doesn't matter. Bill Monroe is so pure and honest, as well as vibrant and entertaining, you can't help but fall in love. Here is music from the soul to the soul, what else could you want? I'll give this album an A+.