Ryan Adams
Heartbreaker (Bloodshot Records)
By: Alex Steininger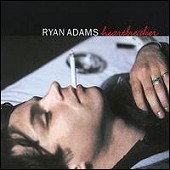 Ryan Adams' previous band, Whiskeytown, was first introduced to me as an alt country band that was very much like my favorite band, The Replacements, only they were country tingled. I then read a lot of comparisons between Ryan Adams and The Replacements' front man Paul Westerberg. It was after all of these comparisons that I had to check out the band. Whiskey-driven, for sure, Whiskeytown was drenched in youth, alcohol, and rock 'n' roll's tragic lack-of-ambition. They didn't want hit records or fancy cars; they just wanted to rock and rock fucking hard, drink hard, and have a good time. And that is what they've done.

After the partying, though, there is a time when you settle down and reflect, preferring to churn out tender odes to love, drunkenness, and reminiscing on the past. Adams' has chosen to go this path, leaving behind the chaos of the band and toning things down a bit, delving into softer country and folk dwellings rather than Uncle Tupelo and Replacements-stained rock.

Adams' debut solo album, Heartbreaker, is pensive, trading in the rock for depth you can feel and hear, rather than burying it underneath a loud guitar or drums. His timid, slightly lost voice trickles over the equally faint guitar, adding a bit additional instrumentation throughout, but never drowning the song in any one instrument, preferring to have his voice and words do the leading all the way.

"To Be Young (is to be sad, is to be high)," "AMY," and "Call Me On Your Way Back Home" are all stark, startling reflections into the life and mind of Adams, as he gives as much information of his life as he wants, fills in the blanks, and leaves enough room for you sit and wonder if he is speaking straight from experience or soaking up life outside of his and speaking to it.

However, the honesty and naked reality of the music is too pure for someone even as talented as Adams to fabricate, so you know that he either is putting himself inside the head of someone he knows quite well, or he is speaking straight from his own mishaps. Here is an album as raw as they come, but dressed up enough for a wider appeal. True to its roots and still accessible, Adams does country and folk legends right, while still carving his own niche in the respective genres. I'll give this an A+.