Ryan Adams
Rock 'n' Roll (Lost Highway)
By: Alex Steininger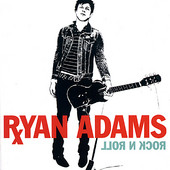 Showcasing his versatility, and further proving to be one of the most prolific songwriters out there today. Ryan Adams steps away from the roots-rock of his earlier offerings and the glossy pop of his latest stuff to deliver Rock 'n' Roll, the aptly titled venture into rock 'n' roll for him.

And though the album is very produced and glossy, if not super poppy as well, he does let the guitars fly and the noise out. Ensuring a record of massive volume, plenty of rhythms, and a lot of tongue-in-cheek lyricism to help you keep your wit (and his wit) about it all.

Some may ask, "Does Adams know what he is? Or is he purposely trying to confuse the listener with each new release?" And, they would have a valid point.

But, Adams has always been about the diversity and his strength lies in his ability to change things up at a moment's notice and, after hearing Rock 'n' Roll, properly venture into a new direction without falling flat on it's face.

Rockers may cringe at this record's sheen, but people who dig modern rock will lavish in the album's rich textures, tight package, and hook after hook delivery. Adams' fans will, at first, shun the record for being void of the emotion and depth of some of his earlier work. But, if they listen closely enough and give the record enough time, will come to enjoy Adams' new perspective as he seems to be cleaning his palate to work on a true gem.

This may not be that true gem, but it's a solid record and held up to any of its peers, other modern rock records, it breaks them down and makes jokes of them. And for that in itself Adams should get credit. And he will for those in the know. But, the fact remains this will never sell what it's even more so watered down counterparts that are all over the radio will.

The album's one downfall (besides being generic modern rock), is that it takes a while to warm up to it, and when you do you'll be addicted and then grow quickly tired of it. I'll give this a B-.