Gary Pig Gold's
2000 Top 20 (Gary Pig Gold)
By: Gary Pig Gold


GARY PIG GOLD'S 2000 TOP 20
Once again, for about the thirtieth year in a row now, I spent far, far too many of the past twelve months strapped beneath my trusty Radio Shack-o-phones, lost within -- amongst MANY others -- the fabulous old and especially New sounds which flooded my way during Y2K. And I can happily report it was particularly tough this year keeping my Best Of Lists relatively succinct and manageable, such was the great glut of cool sounds which came to my utmost attention.
So then, restricting myself to a mere Ten in both the Recent and Vintage categories, here are my picks (in purely ALPHABETICAL ORDER, mind you) as I sit here tonight....
MY TOP TEN 2000 CREATIONS: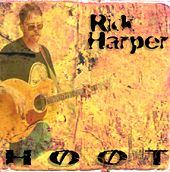 RICK HARPER "Hoot" (Double D)
Yet another home-recorded (and home-burned) compendium of work from one of America's best-kept secret musical treasures. How Rick manages, year after year, to come up with such a vast array of great tunes, great arrangements, great performances -- and then great RECORDINGS of it -- all continues to astound me. As it really should you too.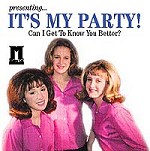 IT'S MY PARTY! "Can I Get To Know You Better?" (Mister Cat)
The truly blessed innocence which was the schoolyard girl-group singalong circa 1961 -- before the Big Boys at the Brill Building et al began writing the rules -- has SOMEHOW been perfectly recaptured and recreated by this fresh trio of young upstate New Yorkers. Suffice to say, if words such as "Honeys," "Marvelettes" and/or "Angels" still bring a lump to your eardrum, then this crinoline-sturdy gem just HAS to be yours. Right now!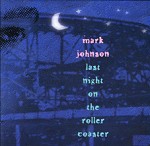 MARK JOHNSON "Last Night On The Roller Coaster" (RadioGhost / Lazy Cat)
True, even a Bronx King the like of Dion DiMucci may have spent his fair time heel-cooling within the afore-mentioned House of Brill, but fellow Gotham renegade Mark Johnson has duly captured every ounce of that Belmont Ave (by way of Coney Island) charm and swagger on this, his second album in far too many years. There truly is nobody I know of left who can befriend a song -- and an entire ethos -- quite like Mark does, and you honestly owe it to yourself to get clued in to what this remarkable man is putting right down.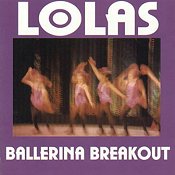 LOLAS "Ballerina Breakout" (Jam Records)
Y'know, even if head Lola Tim Boykin hadn't the brain (or the brawn) to cover my all-time favorite Archies tune herein, "Ballerina Breakout" would STILL have spent the majority of A.D. 2000 lodged within my nearest disc, man. This is a record Jam-packed end-to-end with exactly the kind of trash-happy rec room rollickin lesser bands would cower behind their effect units to shun from. Not our Lolas though: They put the F-u-n BEFORE the A-r-t and nobody but nobody who comes within ten yards of this mini masterpiece will ever be able to resist.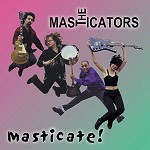 THE MASTICATORS "Masticate!" (To M'Lou Music)
I wonder if Im to be disqualified from mentioning this, because I liked it so much that I actually put it out? hmmmm.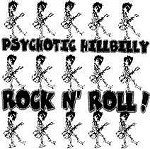 JAMES RICHARD OLIVER "Psychotic Hillbilly Rock N Roll" (Illbilly)
If any one record during the nuts-o year that was 2000 fully lived up to its title, it's this latest dollop of grease-fed guitarnoise from the Wild Wild One of Blue Ridge, GA. Mr. Oliver, as The New York Times shall someday soon be calling him, has out-done himself yet again with, to cite but one example, a little song called "Gwyneth Paltrow," which certainly falls in line with this artists particular m.o. (namely? "pissin folks off since 1992," to quote his labels anti-corporate slogan). To each and every one of you out there still declaring "Rock is dead," well, you certainly haven't heard THIS one yet!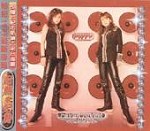 PUFFY "Fever Fever" (Epic / Sony Japan)
I think I'm at least a year late in picking up on this J-poppin duo, and I remain blissfully unconcerned over how shamefully uncool it just might be in the far East to get ga-ga behind such unapologetic gal-pop confectionery. But, you see, I for one can easily draw that silk-fine line between Brenda Lee, Pet Clark, Madonna and on up through even Britney if I have to, so Puffy are more than welcome to live forever beside my teen-caged heart. So There!


TAN SLEEVE "White Lie Castle" (Cheft)
Steve Barry and Lane Steinberg, d.b.a. for the second time hereupon as Tan Sleeve, have once again brought all-new meanings to such catch-alls as "pop," "lounge," and possibly even "retro." Sure, it's the Bacharach-smooth renditions of Mick and Keith's "Sad Day," Keith Partridge's "I Think I Love You," and even F. Zappa's "Take Your Clothes Off When You Dance" which may first catch your ear, but what is truly going on here is much more extremely enjoyable AND musical ...not to mention (unlike most such attempts at recasting the past) darn well Respectful. As opposed to being simply ironic or (ugh) "cute." If there's a Holiday Inn bar within that big venue in the sky, then Tan Sleeve have just GOTTA be the house duo.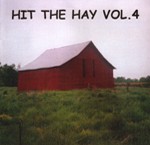 VARIOUS "HIT THE HAY, VOLUME 4" (Sound Asleep)
For the umpteenth year running now, Jerker Emanuelson of Sweden has gone and beat the rest of the world at its own game: Constructing a practically perfect collection of just about the finest songs (and songwriters!) ever gathered together in one place. One must realize artists such as Jimmy Silva, Will Rigby, Ron Flynt and Eytan Mirsky wont just show up on ANY old label (or compilation), believe you me. Plus even the most discriminating fan of the New Music is bound to uncover hitherto undiscovered gems within this roster, which is the basic reason why more labels should be doing just what Sound Asleep is to keep the sonic faith, as it were before were all kidNapstered out of virtual existence, that is.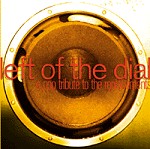 VARIOUS "LEFT OF THE DIAL: A POP TRIBUTE TO THE REPLACEMENTS" (Face Down)
In a year positively overstuffed with Tribute Albums (and Why The Heck Not, I say, as such productions really do serve as brilliant new artist samplers, not to mention pick up where the lowly vinyl B-side once left off) (but I digress) THIS one's one of the best. Why? Well, it's not just because of the veritable feast of indie-ground stars fully represented herein (including Cockeyed Ghost, The Andersons, Popland and the Glowfriends, to name but four out of two dozen!) It's because they have all chosen to honor herein something far too often over-looked when recalling the late, extremely great Replacements: Yep, it's their SONGS, stupid, and this album proves Westerberg's canon is well along on its way to becoming downright semi-classics and not a Tribute Too Soon too!


---
MOST LISTENED-TO COMPARITIVE OLDIES
(as in 2000 Re-Issues):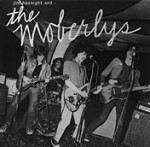 JIM BASNIGHT AND THE MOBERLYS "Seattle New York Los Angeles" (Pop The Balloon)
Often cited at the time (meaning roughly "Give Em Enough Rope") as The Man Who Brought The New Wave To The Pacific Northwest, Jim Basnight and his Moberlys, retrospectively especially, can be seen and heard as nothing less than a thinking-man's Romantics, a Cars with balls, and/or a far-more-genuine Bruce plus E-Streeters. Translation then? Nothin' but some good, far-from-old-fashioned meat n french fried rock direct from the heart ...as opposed from simply the heartland. And it took the coolest label in all of (!!) FRANCE -- Pop The Balloon -- to realize as much, and make available again a full 23 of this band's very best on one nice, loud disc.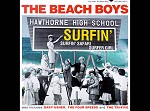 BEACH BOYS "Surfin" (Varese Sarabande)
Sure, all this pre-Capitol material from the teenaged Wilsons has been trawled across the sand multiple times before (most recently via that very fine "First Wave" double-disc of early session and rehearsal tapes). But THIS particularly handy little all-American compilation goes that extra mile by including some frightfully rare Gary Usher creations as well. Magic, magic material, believe you me ...and Wow, these kids sure knew how to sing, huh?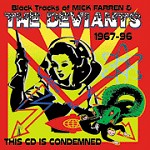 THE DEVIANTS "This CD Is Condemned" (Total Energy)
Mick Farren and his Deviants (alongside such co-conspirators as Chrissie Hynde, Wayne Kramer and even the one and only Twink) honestly did spend roughly the years 1967 through 1977 mixing Syd Barrett with Sid Vicious and Black Sabbath with the Mothers of Invention. Now, throw atop this heady-and-THEN-some brew a dash of old sci-fi B-movies, a hint of Bonzo dogma, and a thrash of Stoogery, and the results honestly can be -- and are -- some of the cleverest listening you could ever partake in, this or any other year REGARDLESS of whichever planet you choose to reside in or near!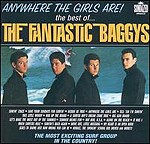 FANTASTIC BAGGYS "Anywhere The Girls Are!" (Sundazed)
And speaking of Brian Wilson again, just about the best-ever retreaders of that giant's genre just had to have been -- and probably still are -- P.F.Sloan and Steve Barri's sub-Jan & Dean motley collection of papa-do-ron-running ...collectively known as The Fantastic Baggys, ladies and gremmies. Released at the time (1964) to sorrowful teeny acclaim -- although on his first U.S. visit, Mick Jagger for one become a lifelong devotee -- the Baggys' material (especially the utterly infectious "Summer Means Fun") stands up undeniably well in even such a cynical, landlocked era as ours. No, Really!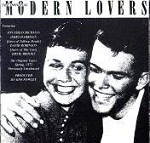 MODERN LOVERS "The Original Modern Lovers" (Bomp!)
In a word? Seminal. The "new wave" (whatever that was) possibly did actually begin during that long-lost Spring of 72, as -- pause for hat-tipping -- Kim Fowley corralled Jonathan Richman's original Lovers (including a future Talking Head and even Car) to cut these nine tracks in a single Massachusetts afternoon. Or maybe these session actually took place in L.A. a year later? No real matter. Several lives -- not to mention several thousand careers -- would never be quite the same again.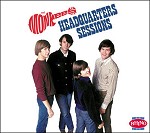 MONKEES "Headquarters Sessions" (Rhino Handmade)
Now that we've just about all finally come to terms with the Prefab Four being a "real" band, it's time to perhaps even give due credit to "Headquarters" as not only Peter, Mike, Micky and Davy's first "real" album, but -- yes, indeed -- one of the greatest albums released during that tres-heady year of 1967. The proof, should you really need any, is spread all over these three discs chockful of out-takes, run-throughs, and absolutely stunning ad-libs. Now! Wheres that full "MONKEES Anthology" boxset / TV spectacular / hundred-dollar coffee-table tome, huh??!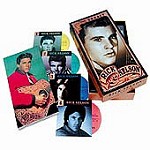 RICK NELSON "Legacy" (Capitol)
PS: and cranky Monkee Mike (as in Nesmith) isn't the only California dreamer due abundant credit for crafting the monster known to this day as "country rock." Nosir, coz Rick (as in Ricky) Nelson was busy gluing genres -- not to mention mediums -- together as far back as 1957, courtesy of Dad's adventurous hit television show. And as if THAT isn't triumph enough, Rick then goes and throws together the landmark Stone Canyon Band a decade later (think Eagles, only lightyears more able and willing). But then, a decade after that, the hitherto-irrepressible Ricky borrowed Jerry Lee's prop-plane and, shoot, went down rockin to the very end. DAMN, and Amen.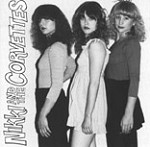 NIKKI AND THE CORVETTES "Nikki And The Corvettes" (Bomp!)
Amidst all the Bangle and Go-Go hoopla of its time, Nikki Corvette was cruelly shunted aside in the Cool New-Chick Singer Sweepstakes of the early Reagan years. Too bad too, coz if ever we needed a substantive antidote to Susanna Hoffs at her MTV peak, it was such Corvette-rock as "Just What I Need," "Boys Boys Boys" and -- oh boy -- "I Wanna Be Your Girlfriend." Not only that, but the whole kindercore (fashion) movement seems to have been based solely upon Nikki circa 1980 as well. Huh! That possibly dubious honor aside, please just set aside your lunch (as in Lydia) and pick this disc of REAL grrl group therapy up instead.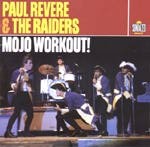 PAUL REVERE & THE RAIDERS "Mojo Workout!" (Sundazed)
I've long claimed that, with just the slightest of peeks beneath their revolutionary war stage get-ups, the Raiders are revealed to be one of America's greatest-ever hard pop combos (and Mark Lindsay in particular one of his nation's rockinest, sockinest frontspeople!) Let their incredible string of hit singles prove me out there, but then lest we also forget the band's pre-fame terrorizing of the Pacific Northwest as well, the essence of which has been fully recaptured here on these earliest, gnarliest recordings for Columbia Records. Sure, the Sonics and the Wailers were proto-Seattle and all that, but I doubt even they would dare even PERFORM, let alone commit to tape, such an aural audacity as these here Raiders' legendary "Crisco Party / Walkin The Dog" medley.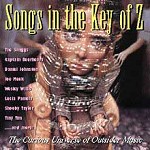 VARIOUS "SONGS IN THE KEY OF Z" (Which?)
A thoroughly ear-bending companion to Irwin Chusid's learned-and-then-some text of the same name, this disc collects perhaps the wildest and wickedest twenty chunks of stereophonic esoterica ever gathered together within one jewel case. Shall I name some names then? The Shaggs. Daniel Johnston. Lucia Pamela. Jack Mudurian. Joe Meek. The Legendary Stardust Cowboy. Captain Beefheart. Jandek. Tiny Tim. But I think I've already said too much. Outsider music for the new millennium, to say the very least, though such a pigeonhole really only pecks at the surface. So then! Open your ears, tune in, and drop something!