Death By Chocolate
Death By Chocolate (Jetset Records)
By: Alex Steininger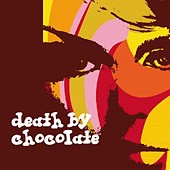 Chocolate, much like alcohol, are two things I've never really understood. I can't stand the taste of chocolate, and don't really like to drink. However, going to the local bar and getting drunk with friends while talking about your fuck-up's and depressing truths, can be quite fun. And eating a nice chuck of delicious chocolate, when you're in the mood is near divine.

"What?" you ask yourself, "I thought he just said he didn't like chocolate, and now he is calling it delicious?" That's what I'm saying, I really don't like chocolate, but when I'm in the mood for it, something inside of me changes, and I become a huge fan of it. Once again, same with alcohol. I dread that first drink, but once the socializing starts, and the alcohol begins flowing ("Come on Alex, just one. I'm buying..."), I begin to really enjoy it.

Death by Chocolate's self-titled album falls under the same category as chocolate and alcohol. You put it on once and you're disappointed in it. Then you listen to it at night, before bed, while thinking about how bad your day was, and why you think that asshole on the freeway that cut you off should die, and it all starts to make sense. The drone-y beats in the background soon become mesmerizing, stimulating sounds that change from sour to soaring. And the monotone female vocals soon start to curiously turn you on, as her ramblings, now lively poetry, open your mind to a world you've never really experienced before. But really want to now.

This is an album of interest and intrigue. How it works is a mystery. Why you like it is equally puzzling. But it just seems to out there, too inventive, not to like. It is various 50's lounge pop beats repeated over 90's and 00's grooves and a female talking rather than singing, but its rough-edges and stinging acid sound is too neo-psychedelic persuasion not to hypnotize. I'll give it an A-.