Death Cab for Cutie
Forbidden Love e.p. (Barsuk)
By: Alex Steininger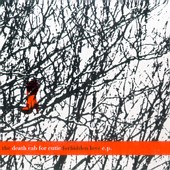 Indie darlings Death Cab for Cutie, all the rage from critics and fans alike, come alive on their latest offering, the Forbidden Love EP, an appetizer of five tracks that will leave your mouth watering for more.

"Photobooth," a roomy, punchy pop song, leaves room for the band to hook you on the pop, while sliding between airy, light rock and guitar-driven lo-fi at the same time. "Technicolor Girls" swims in your mind with guitars that press hard against the song, but only brush it, leaving its mark, but not overbearing the song at all. It is front man Ben Gibbard's voice that bears the responsibility of the song, stepping up the plate, soft-spoken but able to take charge, leading you through a comforting song that is equal parts pop delight and soothing rhythms. And then there is "405 (Acoustic)", a song that manages to muscle up more strengthen than any of the electric tracks, but still keeps things tender and soft-spoken, traveling down a road in Gibbard's mind while telling the tale of a trip down I-405.

Usually EPs disappoint me. You get a few good songs, a few throw-aways, and you're left wondering just how good the band is. Are they as good as the first two tracks, or would a full-length end up like the last two, which are obvious outtakes of something? Death Cab, however, destroy this reasoning, pissing you off for a different reason. They're so damn good, you listen to these five songs and just want more. But, they don't give you more. However, once again, unlike other EPs, these songs are repeat-able. You can just hit repeat and enjoy these songs over and over again without growing tired of them. I'll give this an A+ (a grade I NEVER give EPs).