The Kinks
Come Dancing With The Kinks: The Best of The Kinks 1977-1986 (Koch Entertainment)
By: Alex Steininger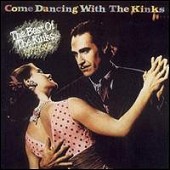 The second wave of British pop, The Kinks hit hard with their blend of strong lyrics and even stronger pop melodies that were bold and blinding, much more engaging for a fan of underground music than for your average radio listener. But, they made their mark on radio too, as The Best of The Kinks 1977-1986 will attest too. And though "The Best" means the most commercial songs the band ever did made the album, even at their most commercial the band still made impressed a lot of fans of music, and stamped their name on the history books. They will definitely be more than a footnote of rock 'n' roll.

Though they never sold the albums they should have, legions of fans still introduce their music to the younger generations, exposing them as a landmark, resulting in steady album sales year in and year out.

"The Best" is an adequate tribute to the band, delivering eighteen infectious, dance-able pop ditties sure to remind you of why the band was so legendary. "Come Dancing," the title track, "Sleepwalker," "You Really Got Me," and "Living On a Thin Line" stand out, though all eighteen tracks will stick in your mind and find you singing them at random times throughout the day. I'll give this an A-.