Rainer Maria
A Better Version of Me (Polyvinyl Records)
By: Alex Steininger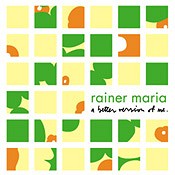 Rainer Maria's latest full-length, A Better Version of Me is as pensively beautiful as they come. Rich, delightful, and easily indulgent, the trio behind the band - Caithlin De Marrais, Kyle Fischer, and William Kuehn - delivers knock out performances throughout all nine tracks. Their ability to seemingly reach the album's apex one minute only to eclipse that and out do it the next, coupled with the band's talented use of noise and air to further their blossoming sound lends hope that strong songwriting and passion like this will help take over the radio. Leaving bands like Limp Bizkit and Linkin Park without a home, and leaving indie kids everywhere cheering on their indie darlings.

Though, that probably won't be the case, however, A Better Version of Me does hint at that, if only in a dream-induced reality. It is this dream, however, that sails through this album, leaving you with a smile across your face and the promise of a better day after listening. Here are nine songs that may not change the world, but they will change whoever listens, hears, and fully absorbs what is being done here; if only musically. I'll give it an A.