Visible Shivers
Little Noises (Self-Released)
By: Brian Connelly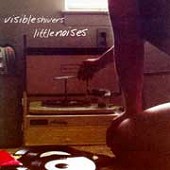 Visible Shivers, besides having a great band name, have a great grasp on that whole new alt-country, folk-inspired sound. Or as they like to call it, "Americana". Whether it be strong armed acoustic guitars accompanying sturdy Tom Petty and Bruce Springsteen-inspired vocals ("Little Noises", "Shooting Star") or mellowed out Lou Reed-meets Joe Cocker reminiscing ("The Fear Inside", "Flow"), these guys have that sound nailed down pat. Hell, if that scene was as big as Hollywood, I'd say give them their own plaque in the walkway. And variety is the spice of life, and a tasty seasoning for this band. Patti Smith influenced tunes, both depressing and sweet ("Firetown", "Chill in the Air") offset feet stomping, upbeat tracks ("Southern Hospitality", "Jaded") which sound like Billy Joel with a ten gallon hat or Randy Travis thumping a piano, possessed with Little Richard's soul. Not to mention the lyrics read like they were written with TS Eliot hanging over their shoulders. I'm not even going to give a sample of their symbolic brilliance-- just listen up.

I can find very few flaws with this album, outside of their sound being a bit mellow for most expectant alternative, country, "roots rock", or "Y'alternative" fans. But these guys are seriously talented; they swelter all their tracks with loving and sweet atmosphere, they are great mood setters, and never over-indulgent, knowing just how much emotion and passion to put into a song before it boils over into cheap shots. It's plain to see, as they say in their bio notes, "The Visible Shivers were playing this kind of music long before it had a name." Any one of these songs would suffice as the perfect soundtrack to any romantic drama you've ever seen or ever will see. These pieces are timeless, not only as love songs, but as renditions of the heart. If you can't sense any of the wonderful musicianship and feeling that went into this album, just keep numbing yourself to Fear Factory or Atari Teenage Riot and leave the rest of us with some warmth in our heart to enjoy something real.