The Visible Men
In Socks Mode (Leisure King Productions, Inc.)
By: Alex Steininger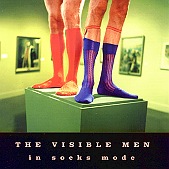 Dustin Lanker and Dan Schmid, both of the Cherry Poppin' Daddies, have separated themselves from the ska-swing draw of CPD and delivered their own quirky sound with The Visible Men. Just the two of them, with some help from friends on the record, the duo brings jazz and classical music training to its refreshing pop style on In Socks Mode.

"Dial Tone" opens the album with the vocals of Lanker and his piano, as he leads you into the bass and drums that soon complete the quirky piano pop that soars throughout. His voice is casual and relaxed, confident, despite what he sometimes leads you to believe.

The lyrics are well-written, adding sly humor the music, as Lanker tells a story, with the help of Schmid, a story that has you on the edge of your seat as you listen attentively and wonder how things end up.

"Hall of Fame" explores the insecurities that sometimes draw people into relationships, or keep them out of them. Beginning with an A Cappella Lanker, the song soon slides into the pop you become accustomed to.

Then there is "Semen Factory," one of the tongue-in-cheek songs that balances the musical wit with the lyrical. Though, like a lot of Visible Men numbers, the song unravels before you, starting off with classical chords and sounding as if it may either be a classical instrumental or a heavily-influenced classical song. But, after a minute of leading you on, the song does a 180, morphing into the sound you've come to expect (and love) on the album.

When Lanker sings "We're just friends/ and that's all right with me/ but when you want a family/ call on me" in the opening verse, you know you're in for a good time. A happy-go-lucky song that manages to say something without really trying to do anything besides making a joke that never gets old.

On "Strange Hash" Lanker incorporates difficult jazz chords into a pop structure, creating a seemingly easy, smooth number that is anything but. For a piano player of Lanker's talents though, it's like riding a bike to him. He seems to get a lot of enjoyment out of turning the difficult into the easy-sounding compositions that he serves up here, sometimes to make you laugh, others to mock you for a chuckle himself.

For those that enter this album expecting the Cherry Poppin' Daddies, they are in for a rude awakening. Where the Daddies were all over the map and sometimes lost in their own sound (in a good way, most often), The Visible Men are cohesive and structured, even when they roam around the map a little bit and shake things up.

In Socks Mode is a shining example of pop music that is infectious and laden with hooks, but not overly accessible or simplified for your listening pleasures. It is a smart, intelligent record that knows when to make a joke of itself and when to get down to business. And for that, I applaud The Visible Men. I'll give it an A.