Buckcherry
Time Bomb (Dreamworks)
By: Alex Steininger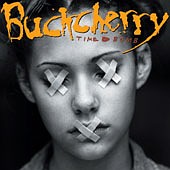 Buckcherry's latest album, Time Bomb, is a 70's arena rock throw back, fueled by punk and AC/DC. This is the music you want to get stoned too, skip school listening to, and blare when you're cruising down the freeway and 90mph and not afraid of anything. This is bloody rock 'n' roll at its purest - pretentious, flamboyant, wild, and careless.

I wasn't a fan of Buckcherry after hearing their two radio hits. So much so that I can't remember the two songs' names. However, after listening to this album, I was ready to give up any dislike for Buckcherry and just rock out like I should.

This record is all about excess. Drugs, sex, volume, and disregard all play an important role in Buckcherry's youthful vigor and high school party atmosphere that is ever present throughout the entire record. But, that is why they're so good. They remind you of your youth, when you thought you'd live forever, that everything was yours for the taking, and that if you put your mind to it, you could do it. That and the notion that the more drugs you intake, the more fun you'll have on a Friday night. And who can blame them. With music this loud and proud, drugs, sex, and a big stereo will make one hell of a party. I'll give it an A.