Dashboard Confessional
The Places You Have Come To Fear The Most (Vagrant)
By: Alex Steininger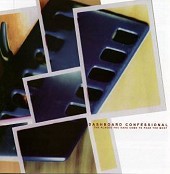 My friend asked me, "Hey, have you heard the new Dashboard Confessional album? It's like pop-punk music but solo acoustic."

I replied, "Does it have shallow lyrics and boring three chord arrangements like most pop-punk you listen to?"

"No, it's really good. Kind of like Elliott Smith, but it has more musically in common with The Ramones than with The Beatles."

After hearing this I was sure this album was going to suck. Sorry, that's the truth. And the first few times I listened to this album, I didn't give it a chance at all. However, The Places You Have Come To Fear The Most has quickly grown on me.

Imagine a former pop-punk rocker who got tired of hiding behind the noise, dropped his electric guitar and picked up an acoustic one. He opened his heart, spilled out everything he was feeling, and wrote tender pop songs that have that cross over emo-punk feeling going for them so the emo and punkers won't think they're traders for listening to this. But, on the flip side, folk and gentle pop fans will find his dashing look on life refreshing.

Here is a solid acoustic guitar-based album that is beautiful; the sweet drip of the vocals gently moving over the strumming of the guitar, which goes from mild to jagged. Give Dashboard Confessional a chance, you might just like it. Emo-meets-folk in a friendly game of checkers. What does that mean? Who knows. I'll give it an A-.